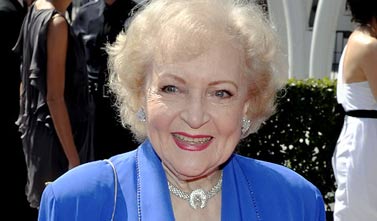 This past weekend, Betty White was awarded an Emmy for her appearance as guest host on "Saturday Night Live." At the age of 88, it appears that she is reaching the pinnacle of her popularity — but this was the seventh award for Betty, and the 20th primetime nomination.
Her first nomination came in 1951, for the show "Life With Elizabeth," co-starring Del Moore. She won "Outstanding Lead Actress" for the role in 1952. Here's part one of an episode:
White won back-to-back "Outstanding Supporting Actress" awards in 1975 and 1976 for her role on "The Mary Tyler Moore Show":
Here's a bizarre one: in 1983, White's next Emmy award came in the form of "Outstanding Host/Hostess in a Game or Audience Participation Show" for the game show "Just Men!" — until then, the award winners had been just men; White was the first woman to win the award.
Her next award would be her second "Outstanding Lead Actress" Emmy for, of course, "Golden Girls" in 1986:
Like her award for her appearance on "SNL," her 1996 Emmy was for "Outstanding Guest Actress," this one for her appearance on "The John Larroquette Show." This clip is not from that appearance, but it's the best I can do:
And then, of course, there was this year's "SNL" visit. This is, by far, the best skit of the evening: