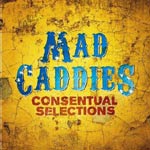 After 15 years, five full length albums, and a rotating roster of musicians, the Mad Caddies are pulling out all the stops and are finally releasing a "best of" album. Consensual Selections features 22 cuts from the Caddies past plus two new tracks. For those unfamiliar to the the Caddies' sound, their eclectic ska-punk sound is mixed with various musical influences. From polka ("All American Badass"), to Spanish ("Just One More"), and even pirate dirge ("Weird Beard"), the boys from Solvang, California have remained true to their whimsical yet musically impressive roots year after year, album after album — even if the California ska scene has returned to its underground two-toned cave in recent times.
The tracks selected for this album do a really good job representing the essence of the Mad Caddies. Most of the tracks here focus mainly on the Caddies music after their debut album Quality Soft Core, although they did add "The Bell Tower" and "Preppy Girl" to show off their oldest material (where's "Crew Cut Chuck?"). "Save Us" and "Why Must I Wait" are two previously unreleased songs, both of which don't disappoint.
Consensual Selections would be fitting for someone new to the Caddies, but for those who have been singing along with these tunes for nearly two decades, this is a fine tribute to one of the best third-wave ska acts to come out of the Golden State.
(Fat Wreck Chords, PO Box 19360, San Francisco, CA 94119)