It was three-and-a-half years ago, back in winter of 2007, that Billy Werner interviewed bassist Darryl Jenifer of Bad Brains for Verbicide issue #19. In this interview, Jenifer announced his forthcoming solo debut album, Soldier Styles '07, describing it as consisting of "off-brand rubba-dub styles." A May 2007 release date was planned…
…Yet the project vaporized and nothing more was heard from ROIR or Jenifer about the album again.
Now, however, ROIR has announced that Jenifer's solo debut album — now entitled In Search of Black Judas — is now slated for release on vinyl and CD on October 26, 2010. More from ROIR:
In Search of Black Judas blasts off with hardcore riffs and monstrous grooves, delivered with classic Bad Brains fire and fury and the quickness to shift into downtempo reggae passages. It's a heady and intoxicating mix of sounds that continues a quest for innovation and soulful vibes, anchored by Jenifer's rock steady lines.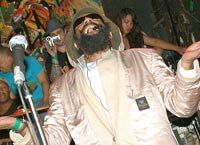 Furthermore, Bad Brains have announced that they will be playing a short, six-date California starting next week. Free tickets are available on their official site.
Bad Brains on Tour
8/19 Ventura, CA @ Ventura Theater
8/20 Anaheim, CA @ House of Blues
8/21 Los Angeles, CA @ Sunset Junction
8/22 Solano Beach, CA @ Belly Up Tavern
8/23 Santa Cruz, CA @ The Catalyst
8/24 San Francisco, CA @ Slim's