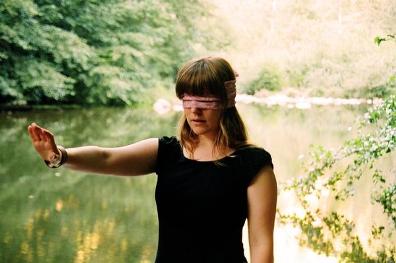 With the release of her latest album Victorian America, Emily Jane White has a lot to be happy about. Just returning from a successful European tour and about to head back for another quick jaunt, White has enjoyed marked success abroad with her current release following 2007's Dark Undercoat, and is quickly gaining momentum here in the States. So why is it that she seems so sad?
The mood of Victorian America is driven by a steady flow of dark gothic themes that move along a current of dynamic ups and downs that are quite like the cliffs and valleys of her hometown Fort Bragg, California. Touching on a number of heavily emotionally charged subjects such as the sorrow of dealing with the inevitable death of a loved one in Hurricane Katrina (referenced in the title track, "Victorian America"), Emily Jane White is able to keep her distance from the melodrama that typically afflicts folk singers drawn to this type of subject matter and effectively tells the tales of the characters she creates in an objective manner, much like an author to a novel. Not surprisingly, White is quite the avid reader, and isn't really all that sad after all. On a sunny spring afternoon, I called up Emily Jane White to talk about her latest literary forays, how she came into her own as a songwriter, and the most recent disaster to hit Louisiana.
Victorian America is your sophomore album following 2007's Dark Undercoat — what did you try to do differently this time around, if anything?
The first record was really just like a bunch of demos…I just had written some songs and I had some people do some very basic stuff on them. With this album I had a collection of songs and had been working on the arrangements with the band for basically a year and a half before we went and recorded the final record. It's very dynamic and very orchestrated. We also play those arrangements live when I do play with my full band. It was more of an ambitious record.
Do you regularly play out with your full band or do you tend to have a more stripped-down lineup?
Sometimes I play with just violinist and cellist — Carey [Lamprecht] and Jen [Grady], who play on the record — or I play with just Henry [Nagle] who plays pedal steel/electric guitar, but I did bring my full band to Europe when we went to support Victorian America in February and March.
The band you recorded with — how did everyone come to join together?
Some of them were friends of mine and some of them were friends of friends. I had been playing with just electric guitar, bass, and drums for a while, and then I started playing with Jen and Carey, who play cello and violin. Then we decided to combine the two so we did that, and then started working on the arrangements with the full band.
Critics seem to want to compare you to the likes of Cat Power and Charlotte Gainsbourg — who would you say you get your inspiration from?
No one, anymore [laughter]. I mean I've been doing this for like over 10 years, so I feel like I've cultivated my own style, for sure. I mean, back in the day when I was like 19, 20, I definitely had influences, but I don't draw from any influences now. I work primarily on my own songwriting. I'd say that the person I admire the most as another female musician is PJ Harvey.
I have read that a lot of your lyrics influenced by various authors such as Emily Jane Bronte and Edna St. Vincent Millay. Are there any other writers that have inspired you?
Its more, I guess, the mood of their writing and the topics that they write about that are inspiring — I don't feel like I draw any sort of outline for lyrics from their work. I mean, I like Edgar Allen Poe and Cormac McCarthy as two very Gothic American writers. But I really like Alice Walker and Toni Morrison, too.
What are you currently reading?
I'm reading Heart of Darkness by Joseph Conrad — I'm surprised I never read it before, actually.
What initially drew you to playing and writing music?
I started playing piano when I was five and then I stopped for a while because I didn't really like piano lessons, and then I learned a few chords on the guitar when I was 13 but I didn't continue with it. And then I started doing piano lessons full time when I was 15, and then when I got to college, around 19, I started playing more guitar because I didn't have access to a piano.
When did you start writing music, or had you been writing all along?
I started writing music probably around when I was 20 — I had written also a couple of piano songs before that, actually.
I read that you were in a number of bands before striking out on your own as a singer-songwriter — can you tell me a little bit about those experiences?
Yeah, I mean they were pretty much just like amateur-ish punk bands. I played keyboard in one band, and I played electric guitar in another band. But I didn't really start singing until I had my own band and my own songs.
You seem to tour Europe pretty frequently — no doubt due to your success over there. How does the European touring experience compare to touring in the States?
Well, I don't have a booking agent in the States, so I don't really have anything comparable to what I have in Europe in terms of shows — it's a completely different world. And I feel like even though I've been playing music for 15 years, with the release of this record it's the first time I've ever had a publicist or anything, so its very must approached almost as like this is my very first record in the States. Talking to a lot of other bands and observing other bands, I know it's a bit more difficult to get something substantial going tour-wise in the States as opposed to Europe — if you have people helping you over there. We play pretty big venues to pretty quiet listening audiences, and I feel like that's really hard to find here. You really have to seek out the right and appropriate places to play…it can be really hard.
I feel like there's a number of artists from the States that seem to be received better overseas than they are here — can you offer any insight as to why that is?
Yeah, I don't know why that is, but all I can think of is that's its something to do with it being foreign. Also, people have more of a capacity to listen to music; I feel [that], culturally, that may be encouraged, or that's just a part of the culture. They have a different appreciation for music and art. Also, there's a totally different infrastructure for music and art in Europe. There's actually a lot more people working in the music industry. I think it's easier to work with it when things are well received there. I know that the US is saturated with artists and a lot of people make music. If you look at Pitchfork, they review four to five records a day. There's just a lot out there.
In reading your press for Victorian America, I noticed that there's a quote from you that keeps reappearing — "I'm drawn to writing sad songs. It's not my job to create happy music. I'm okay with that". How do you feel about this quote representing you in the media? Do you ever feel that you're being pigeonholed into the "sad and depressed folk rock" category?
Not really. I mean, I said that because I feel like its true. I don't necessarily feel that my music is depressing — I feel like it's full of a lot of positive things and positive sentiments. I said that particularly for this record as well, because it's a sad record; all the songs are sad. People love to point that out because it's on the one sheet on my website. [laughter]
The title track to Victorian America makes reference to the devastation caused by Hurricane Katrina — how do you feel about the recent BP oil spill, yet another disaster to hit the same area?
It's an incredibly unfortunate situation. Obviously, it has a lot of the similar politics that are involved. It's amazing how the political breakdown of a catastrophe can sort of shed light on the problems of an entire country. My heart goes out to everyone who is suffering and affected by that, including the environment. It's amazing that this is also happening in the same place that was just struck by a huge catastrophe not long ago. It's similar sentiments for me of what I wrote about in that song.
I heard that you've already started work on your next album — how are the new songs shaping up compared with those on Victorian America?
All in all it's going to be a shorter record. The songs are a little bit more dynamic and it's a little bit faster moving than Victorian America.
I'm sure there's going to be a lot of excitement about your next record — do you have an anticipated date for the release?
It probably won't come out in the States until next year.