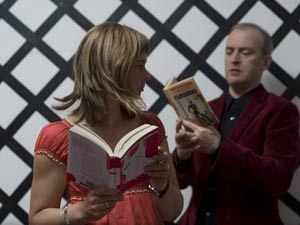 Formed in Glasgow in 1987, The Vaselines released two singles and one album, Dum Dum, on the 53rd & 3rd label. Splitting up in 1989 (in the same week their album was released), they might have faded into obscurity but for the intervention of a certain band from Seattle. Nirvana covered three Vaselines songs, helping to fuel a growing after-the-fact appreciation of their seedy, two-and-a-half chord, garage pop manifesto.
Twenty years in the making, the second Vaselines album is here. Recorded outside Manchester at the Analogue Catalogue studio in Mossley with Julie McLarnon engineering and produced by Jamie Watson who produced that first album Dum Dum, Sex with an X was recorded the old-fashioned way: 12 songs in 13 days (plus two B-sides). The Vaselines ca. 2010 is Eugene and Frances with guest musicians Stevie Jackson and Bob Kildea from Belle & Sebastian on guitar and bass, and Michael McGaughrin from the 1990s on drums. It may have taken The Vaselines 20 years to get 'round to making this baby, but it was worth the wait — bringing their solo careers to a climax. The irony has not been lost. Who says indie music can't be fun? No hand-wringing on these tracks — just good clean smut with a twist of bitter.
Click (control click for pc) to download!
[download id="286″ format="1″]