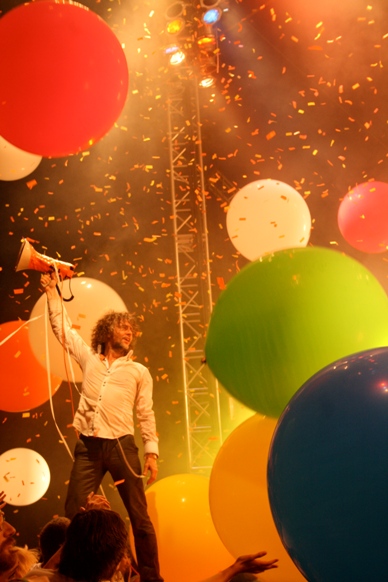 So much has already been said about The Flaming Lips' live shows. It's a little like the summer of 1999 when all anyone could ask you was, "Have you seen The Sixth Sense?" With the Lips, though, there's really no such thing as a spoiler. You could watch a hundred hours of concert footage and still not prepare yourself for the experience. I went to their July 25th gig at Mountain Park, an amusement park-turned-concert venue in Holyoke Massachusetts, with a friend who begged me not to hype it up. Halfway through the show I turned to her and screamed over the roar, "How could I possibly hype this?" I got a huge grin as a response. You can't. Wayne and company pack pure energy and love for what they're doing into every song.
I'd seen them last in New York on their tour supporting the release of At War With The Mystics. So I knew what I was in for. That crowd years ago was typical New York City — as in, they made soccer hooligans look like a roomful of old ladies at tea. I'm sure the band fed off that energy. Wayne in his famous hamster ball was able to essentially walk normally on the packed crowd. He wore a headset and was able to sing the first song while running and bouncing off the hundreds of raised hands, arms made temporarily superhuman for the four minutes of "Race For The Prize." I think I even remember him airborne at one point, as if he were just another balloon bouncing around Hammerstein.
That sort of universal frenetic energy was not a part of this experience at Mountain Park. Half the crowd was in a lather, but half were content chilling on blankets on the back lawn. The hamster ball was a little like racquetball without side or back walls.  Coyne only stayed in it for a few minutes, and then made his way back to stage and burst the bubble. He'd come out on stage prior to the show and asked the crowd of people sitting behind the soundboard to pack in forward for his rolling entrance. Very few did. It's just something idiosyncratic about western Massachusetts crowds. I've seen it at other shows up here, too — almost as though music is a backdrop for hanging out instead of the reason to be there. It's a bonding moment for friends, sure, but so strange for live music to be treated by a sizable minority like music from a stereo filling a house party.
The seeming apathy of a portion of the crowd — the same apathy that pissed off Feist enough for her to get confrontational with a Northampton crowd — had little effect on the Lips, though. Wayne was constantly trying to rile up the crowd from their picnic blankets, but you could tell it was for their own benefit.
"Come on! It's fucking Saturday night! I mean, for us it's always Saturday night, but look at this place!"
Even in the heat he was having a blast. The venue is amazing. Huge pines and gorgeous grass befitting a golf course, rolling hills — perfect for confetti flying everywhere, dozens of huge balloons bouncing throughout, the bear costume, the Pink Floyd-worthy projector behind them, the huge hands. Everything. They brought out their full bag of tricks, and, like any good Lips show, promotion of the most recent album was hardly the point of being there. I only counted two songs from their current release Embryonic, and neither were popular favorites like "Watching The Planets." The boys play what they want. They did trot out The "Yeah Yeah Yeah Song" for the crowd, the almost required "Yoshimi Battles the Pink Robots," and a surprise visit to Transmissions From the Satellite Heart's "She Don't Use Jelly," but everything else was all about atmosphere and the experience of that night.
One of the best moments was a sing-along. Before the show there was a little girl with a sign that read "Today's my birthday, Wayne, can I come up?" Of course you can come up — Wayne put her with the dancers for the first half of the show, and later even brought her out center stage to introduce her to the crowd. "This is Sage, and she's nine years old today!" Roars and applause followed. He brought out one of his tech guys then too, Terry, saying it was also his birthday. And then, of course, he led the place and the band in singing "Happy Birthday To You,"  correcting the crowd by pluralizing "birthdays" during the song.
All in all, another amazing night courtesy of the band everyone really should see before they die. Even if the fire needed a lot of stoking, Wayne and the guys kept it burning all night.