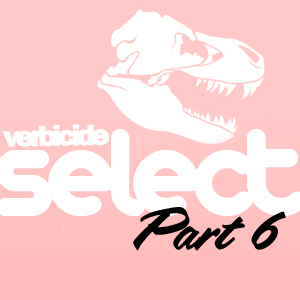 Available now for free download, Verbicide Select Mixtape Volume 6 is our collection of the best and most popular tracks featured on VerbicideMagazine.com in the past couple months, with a few special, previously unreleased tracks mixed in.
Where else can you hear the folksy tunes of Mountain Man alongside the cacophonous metal blasts of Howl? Where else would you find an array of music, ranging from hip-hop (Central Services), to garage rock (The Dead Weather), to nearly incategorizeable psychedelia (Insects Vs. Robots) — all wrapped up in a neat, tidy package? Like electronic music? Good ol' fashioned indie rock? Why are you still reading? Download this mixtape already.
Click (control click for pc) to download!
[wpdm_file id=7]
1. Central Services (Camu Tao & El-P)
"What God Should Do"
From the EP Forever Frozen In Television Time
Courtesy of Definitive Jux
www.definitivejux.net
2. Mike Patton
"Il Cielo In Una Stanza"
From the album Mondo Cane
Courtesy of Ipecac Recordings
www.ipecac.com
3. Howl
"Heavenless"
From the album Full of Hell
Courtesy of Relapse Records
www.relapse.com
4. Mountain Man
"Soft Skin"
From the album Made the Harbor
Courtesy of Partisan Records
www.partisanrecords.com
5. The Dead Weather
"Die By The Drop"
From the album Sea of Cowards
Courtesy of  Third Man Records
www.thirdmanrecords.com
6. School of Seven Bells
"Babelonia"
From the album Disconnect From Desire
Courtesy of Vagrant Records/Ghostly International
www.vagrant.com
7. Stripmall Architecture
"Drunk Girls (SMA on LCD)"
Originally released as a digital single
Courtesy of Stripmall Architecture
www.stripmallarchitecture.com
8. The Books
"A Cold Freezin' Night"
From the album The Way Out
Courtesy of Temporary Residence Ltd.
www.temporaryresidence.com
9. Salem/These New Puritans
"Hologram (Salem Remix)"
Originally performed by These New Puritans
Previously unreleased
Courtesy of Biz 3/IAMSOUND Records
www.iamsoundrecords.com
10. Yacht
"Nausea"
Previously unreleased. From the BBC Radio 6 Session
Courtesy of Yacht and DFA Records
www.dfarecords.com
11. Insects Vs. Robots
"Sacred Moose"
From the album Geryl and the Great Homunculus
Courtesy of Nice & Friendly Records
www.niceandfriendlyrecords.com