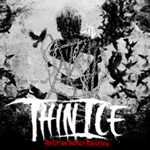 Thin Ice are a Texas-based Christian hardcore band whose sound immediately calls to mind '90s Christian band xDisciplex A.D., and a slew of other '90s bands like Buried Alive and Integrity.  Picked up by Blood & Ink while still a project band, Thin Ice have since solidified their lineup, and this new EP — essentially a polished version of the band's demo — is their debut release.
Hardcore is a heavily message-oriented music genre, and while not into Thin Ice's message, I definitely dig their music.  The six songs on this digital EP are a rocking mix of brutal riffs and pounding drums, heavy on the double-bass, sure to bring out the bedroom-mosh in believers and non-believers alike.  "You Were There" and "Purpose and Plan" are the two strongest songs on this release, and highlight the band at their best.  They mellow out a bit on instrumental track "Sackcloth and Ashes," but close just as strong as they started with the brutal "Faded" and "The Ghost," which features singing as well as hardcore-screams, and a slow-mosh part guaranteed to spawn mosh-pit mayhem live.
Skip this if you can't get past this band's message, but if you just want to rock to some hardcore reminiscent of your favorite '90s bands then give this a shot.
(Blood & Ink Records, PO Box 27265, Richmond, VA 23261)