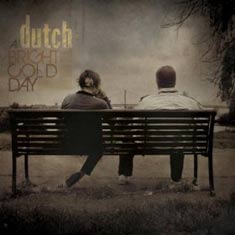 There's music for blasting in your car and music for lazy Sunday afternoons; DJ Stoupe the Enemy of Mankind intends to produce both. He works on the former with Jedi Mind Tricks rhyme-spitter Vinnie Paz, and the latter with honey-voiced Liz Fullerton. Stoupe has been collaborating with her since 2007, when Fullerton lent backing vocals to "Razorblade Salvation" on JMT's Servants in Heaven, Kings in Hell album.
That led to a full partnership between producer and singer called Dutch. Their debut LP, A Bright Cold Day, recalls a softer, sweeter Portishead at times, blending swooning pop into the dark mix of trip-hop. While it's a worthy offering, JMT fans should be warned (if it wasn't clear enough) that this is a drastic shift in gears for Stoupe. You won't be blasting Dutch at parties with your friends, just like you wouldn't put Jedi Mind Tricks on as background music when you have a girl over.
With A Bright Cold Day, Stoupe shows the same flair for production that he does on JMT's records, with crackly audio samples and seductive beats. But here, the use of strings and horns forms something more romantic, with songs like "Warm Like the Wind" serving as slow burn odes to late night couplings.
Even though he gets plenty of opportunities to shine, though, Stoupe's work is largely providing a frame around Fullerton. Her silky voice charms, pleads, flutters, occasionally even slipping into Spanish on tracks like "Tristressa." "Beyond All Walking" has Spanish backing vocals while Fullerton's voice soars over a James Bondish wave of strings, while "Meaning of Unequipped" is an acoustic folk number. It's recorded with some background noise, presumably in an actual café, and Fullerton sounds like she has a rip in her heart. It's quite gorgeous, and proof that Fullerton shouldn't let go of any dreams about a solo career.
As for Dutch? It's a worthy project, especially if you like slow, sexy numbers that meet electronica and singer-songwriter fare halfway. But if it's not your thing, you're likely to find it very sweet, but a little dull.
(Enemy Soil, no address provided)