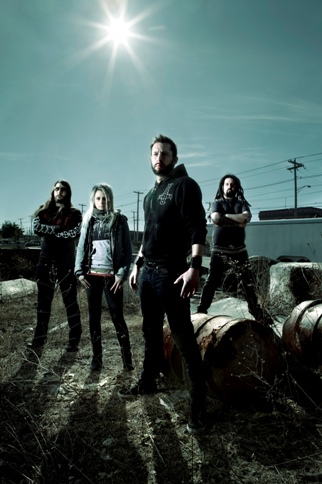 Providence, Rhode Island's Howl is a metal band poised to break out in a big way this year. The band already has a fiercely loyal fan base off a solid self-titled EP, as well as from their relentless touring alongside the likes of Skeletonwitch and Doomriders.
Their debut full-length Full of Hell was just released on May 11th. I caught up with Rob and Vincent, two of the four members of Howl, fresh off thrashing faces at the New England Metal & Hardcore Festival in Worcester, Massachusetts and as part of the Relapse Records Showcase at South by Southwest.
First, what it was like playing the New England Metal Fest and South by Southwest? Apart from the size of the venue, how is playing a fest a different experience for you from playing a regular show?
Vincent: Do the math on a fest: more bands, more metal heads, more beer….
Rob: South By Southwest and the New England Metal Fest were both great experiences. We played with some great bands, got to see many of our friends, and we played to tons of people. However, playing fests can also be a clusterfuck. At SXSW, loading in and out of clubs and dealing with parking was an absolute nightmare — even more so than it was last year.
Next year, if we play there again we might not book so many shows so we don't have to stress ourselves out so much. But we'll see; it's hard to turn down shows when there are all these sweet bands you want to play with and see.
At New England Metal Fest we got the chance to play to a few hundred kids, most of which, had probably never seen us before. That's a cool thing about playing big fests: you get to play to people who aren't necessarily there to see your band, but you can hopefully make new fans out of them, more so than at a regular show. Sometimes at fests though you get shorter set times or no guests list spots, or other things that aren't usually an issue at a regular show. At a fest, there are sometimes 50 bands on a bill, and if, for example, every band got five spots on a guest list, the promoter wouldn't be able to make enough money to pay the bands. You understand these sorts of things going into a fest, and you agree to those kinds of terms when you agree to play the fest. At New England Metal Fest this year we got to share the stage with Cannibal Corpse, Amon Amarth, Mastodon, Skeletonwitch, Between the Buried and Me, Baroness, and a ton of other great bands. I was excited to be a part of both SXSW and New England Metal Fest, and I would do it again if given the chance.
When describing Howl, the term "Rhode Island super group" seems very appropriate. Talk briefly about your past projects and then talk about how you came together to form Howl. Who plays what in the band?
Rob: I used to play bass in a hardcore turned thrash band called Shred the Past. After that I played in a hardcore/punk band called Hulk Out. Then I played in a D-beat style crust punk band called Saint Jude. As for how the members of Howl all started playing together, right after Saint Jude started we were looking for a second guitar player and my band mates all knew Vincent and knew that he was into D-beat hardcore so they asked him to try out for Saint Jude.
Vincent used to play in a D-beat crust band called Blacken the Skies and used to sing for a Dutch hardcore band called Driven. He tried out and he was in. Shortly after joining, he told me that his other band needed a new bass player because their old bass player had left the band. They were a three-piece, which included guitar, bass, and drums, and had just changed their name from Late Night Prayers to Howl. I started jamming with Vincent (guitar) and Timmy (who used to play drums in a band called Labella Angora) and played, I think, two shows with them before Andrea, who we all knew somewhat from her old band Get Killed, approached us and asked if we wanted a second guitar player. She started jamming with us and we became Howl, the four piece we are today. That was in 2007.
In my mind, the Rhode Island music scene is one of the best on the East Coast. What's it like coming from a scene that has produced so many other amazing bands? How has coming out of such a thriving scene helped the success of Howl? Has it?
Rob: Providence has many great bands: Dropdead, Lightning Bolt, Sin of Angels, The Eyesores, She Rides, Deer Tick, Denim Venom, Verse, and Daughters, to name a few. Being a band from Providence, you end up playing tons of shows with so many bands that have such different sounds and styles. There aren't too many all-metal shows or all-punk shows. There are always noise bands and dance bands on the bill with heavier bands, and everyone in the local scene is pretty much into all of it, except me. I have had enough of all the two-piece noise rock bands that everyone does the spazz-out-body-shake dance to. (laughter) Providence definitely could use more metal bands.
Also, it can be hard sometimes to get people to come out to shows if they've seen all the bands a million times. That is one of the reasons that we began touring when we did. We felt like we had played Providence enough for a while, so the logical next step was to do a tour. So in that sense, being from such a small city and state helped us to thrive as a band by making us want to tour. Touring is one of the best things you can do to help your band succeed, in my opinion. People aren't ever going to discover your band if you never leave home.
Talk about signing with Relapse Records. What's it like working with them?
Rob: Relapse is great. We've all been listening to Relapse bands for many years now and it was the label we wanted to be on when we figured out that we wanted to do this band full time. A lot of "making it" in the world of rock and roll is knowing the right people, but the biggest part is hard work. I think Relapse had heard about us from a friend and then they saw that we had done a few tours, which were all DIY booked, and they were impressed. They could see that we were serious about doing this band and that we would go out there and tour our asses off.
People ask us sometimes "What does Relapse do for you as a band?" and the answer is simple: they give us money to make records, they distribute our records all over the world, and they help get us on tours, among other things. They want to make money off us, sure; they are a business, and we would like to be able to make some money as well. We're not expecting to get rich or anything but we don't want to be pizza delivery dudes forever. So we chose to sign with Relapse Records.
Where did you record?
Rob: We recorded Full of Hell with Keith Souza and Seth Manchester at Machines with Magnets in Pawtucket, Rhode Island over two weeks in December of 2009. Recording was actually a stressful and unfun process. The studio there is very nice, and Keith and Seth are great to work with, but recording is probably the least fun part of being in a band.
Describe the writing process. Do you write songs individually or collectively? What about lyrics?
Rob: When it comes to writing we usually come up with riffs or parts at home and then all get together and put them together. We usually work on a song for a while and we end up rewriting parts or rearranging the song until we think it sounds the best. Then Vincent writes the lyrics.
What sort of themes do you address in your lyrics?
Vincent:Full Of Hell is not necessarily a concept album. There are, however, a couple of themes addressed in the lyrics. These songs are mainly homage to why all of us got into metal in the first place, but they are also a defiant stand against institutions that tell us how to be, how to feel, and what's right and wrong. I know it sounds simple, but I just wanted to write some songs that celebrated metal, what it did for us, the escape and the solace it gave us, and the other "weird" people that became our friends because of metal. This record is dedicated to all of us who were made to feel out of place in school or church, for those of us who were made to feel guilty about doing what we wanted, for those of us who others called "fags," "weirdos," and "losers." This is for us, for the metal heads. We are full of hell.
Lyrically, I'd say how we treat the planet and each other is my biggest inspiration. Oh, and the hypocrisy and hate of religious fundamentalism worldwide. And I'm not just talking about Al Qaeda — I'm talking about people like Sarah Palin, Rush Limbaugh, and Tony Perkins. These are deranged and dangerous people.
This summer looks to be a busy one for you. What's going on with Howl after the album drops?
Rob: We're playing the Maryland Death Fest at the end of May, and in June we're playing three shows with Eyehategod. June 13th is in Providence, Rhode Island, 14th in Milford, Connecticut, 15th in Manchester, New Hampshire. Then we leave a few days later for a week of shows with Pentagram. We have some other tours in the works too but I can't mention them yet. You'll just have to wait to see what we do next! We also plan to shoot a video for one of the songs from Full of Hell very soon.