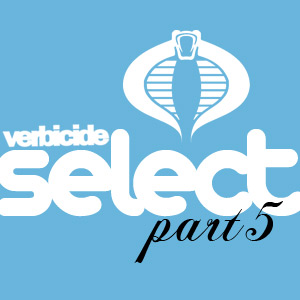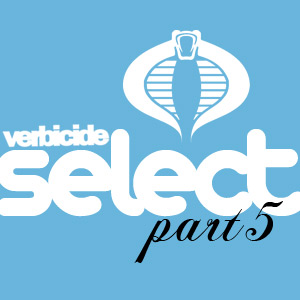 Presenting the new and improved Verbicide Select Mixtape Volume 5! Fourteen delicious tracks (and one bonus track) fortified with vitamins, minerals, essential polypeptides, and 100% real fruit juice*.  It's the perfect kid's snack that's good and good for you.  First up, we're giving you Chuck D's brand new (and timely) single, "Tear Down That Wall," and then we follow that up with a track from electronic artist Tobacco, featuring Beck (you know…the "Loser" guy). We've got CocoRosie, BLK JKS, Sia, Amanda Palmer, and Iraqi metal heroes Acrassicauda…all made of whole grains and so low in sodium that you can listen whenever and wherever you want without worrying about it going straight to your thighs. Verbicide Select Mixtape Volume 5: Because Your Health Matters.
Disclaimer: Verbicide Select Mixtape Volume 5 is extremely poisonous and not intended to be eaten.  Side effects may include runny nose, kidney failure, nausea, shame, and random explosions.
* 100% fruit juice may contain trace amounts of animal fur
Click (control click for pc) to download!
[wpdm_file id=8]
1. Mistachuck
"Tear Down That Wall"
Previously released as a free single at slamjamz.com
Courtesy of SLAMjamz
www.slamjamz.com
2. Tobacco (featuring Beck)
"Fresh Hex"
From the album Maniac Meat
Courtesy of Anticon Records
www.anticon.com
3. CocoRosie
"Lemonade"
From the album Grey Oceans
Courtesy of Sub Pop Records
www.subpop.com
4. Katzenjammer
"Tea With Cinnamon"
From the album Le Pop
Courtesy of Nettwerk Music Group
www.nettwerk.com
5. Head Like A Kite
"Director's Cut"
From the album Dreams Suspend Night
Courtesy of  Head Like A Kite
www.headlikeakite.com
6. BLK JKS
"Zol!"
From the EP ZOL!
Courtesy of Secretly Canadian Records
www.secretlycanadian.com
7. Hesta Prynn
"Can We Go Wrong (RAC Remix)"
From the EP In Civil Shepherd
Courtesy of Hesta Prynn
www.hestaprynn.com
8. Sia
"Clap Your Hands (Diplo Remix)"
From the album We Are Born
Courtesy of  Monkey Puzzle/Jive Records
www.jiverecords.com
9. The Morning Pages
"Telephone"
Originally performed by Lady Gaga
Courtesy of Zealous Records
www.zealousrecords.com
10. The Mynabirds
"Let The Record Go"
From the album What We Lose in the Fire We Gain in the Flood
Courtesy of Saddle Creek Records
www.saddle-creek.com
11. Little Brother
"Star"
From the album LeftBack
Courtesy of Hall of Justus
www.hallofjustus.com
12. Acrassicauda
"Garden of Stones"
From the EP Only The Dead See The End Of The War
Courtesy of Vice Records
www.viceland.com/vicerecords
13. Typhoon
"Starting Over"
From the album Hunger and Thirst
Courtesy of Tender Loving Empire
www.tenderlovingempire.com
14. Amanda Palmer
"Do You Swear To Tell The Truth The Whole Truth And Nothing But The Truth So Help Your Black Ass"
Previously released as a free single at amandapalmer.net
Courtesy of Amanda Palmer
www.amandapalmer.net
15. BONUS TRACK!! Slug and Murs
"Protaganist (Grieves and Budo Remix)"
From the album Felt 3: A Tribute to Rosie Perez
Courtesy of Rhymesayers
www.rhymesayers.com