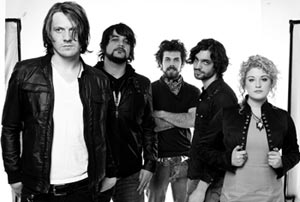 Somewhere within the vast landscape of the New Jersey music scene in 2009, a couple of musicians began to envision a fresh project that could capture their collective desires for a new sonic fusion. The pair — songwriter Addam Bird and instrumentalist Dom Lettera — began combing through hundreds of songs that balanced old and new, soft and spacey, and in-your-face rock grit to bring their vision to life. In this moment, the beginning of Those Mockingbirds was born.
Bird and Lettera then quickly recruited drummer Matt Yeager and guitarist Dane Zarra while beginning to work on arrangements for the band's first seven songs. Within two weeks, the newly formed four-piece was already recording demos. During that process, Tory Daines soon surfaced to display her stunning talent on the violin and keys, filling the missing link and completing the lineup for Those Mockingbirds.
With a number of regional tours already completed, the 2010 release of their debut EP No Symmetry is set to fuel Those Mockingbirds to more non-stop action throughout the US this year. The band has already set a spring tour to coincide with the release, where they will bring their live set to audiences across the nation.
No Symmetry will be released on June 8, 2010 from LE Records and SideCho Media.
Click (control click for pc) to download!
[download id="185″ format="1″]