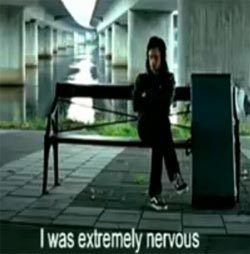 There's a great blog entry by Jason Diamond over on Impose Magazine's site in which the author says what should have been addressed years ago:
"The Shape of Punk to Come (T.S.o.P.t.C. henceforth) is the single most overrated album to come out in the late '90s. You know what T.S.o.P.t.C. really is? It's a bad attempt at combining Born Against and [Nation of Ulysses] with a bunch of techno music thrown in — that upon any listen today, seems incredibly dated — and it's perpetrated by a bunch of Swedes with government art grants and books on Situationist International."
I'll give the band this: "New Noise" and "Summerholidays Vs. Punkroutine" are two really good tracks. But that's it. I was around 18 years old when this album came out, and with all the critics fawning over the album, I figured I just didn't get it. I mean, the band members themselves must have known what a "game-changer" this was before the album was even released:The Shape of Punk to Come? Subtitled with "A Chimerical Bombination in 12 Bursts?"
Diamond continues: "If Refused was an attempt at being Nation of Ulysses, The (International) Noise Conspiracy was a pathetic attempt at pinching some magic from The Make-Up."
Then there was the brutally melodramatic documentary, Refused are Fucking Dead. I kept waiting for that film to shed some light on the tragedy behind the band's demise, only to discover it was, "We toured on a shoestring budget. We had some internal conflicts. I missed my mom. We decided to break up and go home."
The musical score sounds like it belongs in a Tim Burton flick, and the dramatic opening, replete with a voice-over and piano music, sets a tone more suited for a documentary on Holocaust survivors than revisionist rock history:
"All I remember…is that everyone was there, and the sense that something important was about to happen…It felt like the people were projecting whatever they wanted on us, and that they had taken over everything…Everyone in the band just sat around the house…quiet…The mentality was life and death…It wasn't a very friendly, inclusive, or warm atmosphere…We couldn't offer anything to each other, no comfort. We looked at each other and only expressed confusion."
Give me a break.