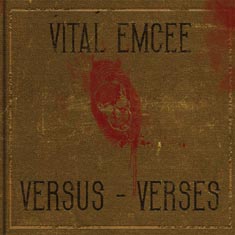 I became familiar with Noel Vinson's (AKA V.I.T.A.L. Emcee) work while checking out the Southern California hip-hop group Seekret Socyetee. The group, which also features Matt Embree of RX Bandits (founder of MDB Records) and Maylay Sage was one of the first hip-hop acts to be featured on MDB's roster of artists.
V.I.T.A.L. released his debut album, The Secret of the Invisible Man in 2006. Its dark sound and socially conscious subject matter were clearly a continuation of what was started with Seekret Socyetee's material. Leading up to present day, things in Camp V.I.T.A.L. had been fairly quiet until the release of his sophomore album Versus – Verses. This 16-track album comes off as a total departure from V.I.T.A.L.'s last release. The subject matter isn't as political or dark, but rather comes off hitting on a much more personal note.
There are a few political tracks that are featured here. "I Don't Want To Be Right" revolves around the argument here in California around Proposition 8 to legalize gay marriage; the "right" being the evangelical conservatives who are against gay marriage. Lyrically, the song has a scathing message to those who claim to be speaking a message of "love," yet come off looking very hypocritical. "Against the World" is a beautifully sung song that deals with the high and low points of being in a relationship, clearly touching on some personal experiences. The song features Lauren Colman, who also is featured on the song "Boomerang." Her amazing voice adds a lot to both of these tracks. I was also impressed with the diversity of the beats that accompany V.I.T.A.L.'s vocals. Many of the tracks in The Secret of the Invisible Man were simplistic in their beat structures. There was very little sampling and scratching on that album, but this new album features a wide range of beats and samples. From a soulful sound with the song "It's Love" to a very cool sample of Richie Haven's performance of "Freedom" at Woodstock, the beats featured here make the album extremely diverse in sound. V.I.T.A.L.'s vocals are smooth and are well executed, especially when he flows with quickness (something he attributes to studying Bone Thugs N' Harmony).
Versus – Verses is a fine example of what hip-hop should consist of. It's not watered-down, mass marketed dribble found on the radio or television — it's real music from the heart.
(MDB Records, PO BOX 941, Seal Beach, CA 90740)