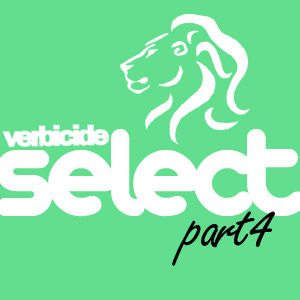 Bewaaaaaare…for it has been foretold by the prophets that on the 13th hour of the 17th day of the 3rd month in the 2010th year of our lord that Verbicide Select Mixtape Volume 4 shall rise from the grave and walk amongst the living…
Hear! Thirteen tracks of indie rock, hip-hop, and other unclassifiable horrors!
Listen! To the previously unreleased Jenny Owen Youngs song "Thanks, Mesopotamia!"
Grind! To the varicose melodies of Elliott Smith and League510!
Wonder! In amazement at how those two artists came to be included on the same mixtape!
And when the blood moon rises and casts down its ghostly pallor, more tracks will be revealed from the likes of Little Brother, Jookabox,  and Pelican. Shouded in darkness, Neon Indians will dance to Midnight Masses. A damned cotillion of the lost! Cower in fear as you download this cursed compilation.
Click (control click for pc) to download!
[wpdm_file id=9]
1. Jenny Owen Youngs
"Thanks, Mesopotamia!"
Previously unreleased
Courtesy of Nettwerk Records
www.jennyowenyoungs.com
2. Imaad Wasif
"Priestess"
From the album The Voidist
Courtesy of Tee Pee Records
www.imaadwasif.com
3. Quasi
"Repulsion"
From the album American Gong
Courtesy of Kill Rock Stars
www.killrockstars.com
4. League510
"In My Face (Womp Womp)"
From the album Invasion Vol. 1
Courtesy of League510 and Clear Label Records
www.clearlabelrecords.com
5. Midnight Masses
"There Goes Our Man"
From the EP Walking Wounded By The Dying Choir
Courtesy of  Midnight Masses and Team Love
www.team-love.com
6. Neon Indian
"Sleep Paralysist"
Originally appeared as a free single at greenlabelsound.com
Courtesy of Lefse Records
www.lefserecords.com
7. Jookabox
"John Kill Meets the Brick People"
From the "Jookabox/Kid Primitive Family" limited edition split cassette
Courtesy of Joyful Noise Recordings
www.joyfulnoiserecordings.com
8. Growing
"Hormone"
From the album Pumps
Courtesy of  Vice Records
www.viceland.com/vicerecords
9. Toro Y Moi
"Blessa"
From the album Causers of This
Courtesy of Carpark Records
www.carparkrecords.com
10. Little Brother
"Curtain Call"
From the album LeftBack
Courtesy of Hall of Justus
www.hallofjustus.com
11. Garotas Suecas
"Codinome Dinamite"
From the "Codinome Dinamite"/"Ghostwriter" 7″
Courtesy of American Dust Records
www.americandust.net
12. Pelican
"Strung Up From the Sky"
From the album What We All Come to Need
Courtesy of Southern Lord Records
www.southernlord.com
13. Elliott Smith
"Last Call"
From the album Roman Candle
Courtesy of Kill Rock Stars
www.killrockstars.com