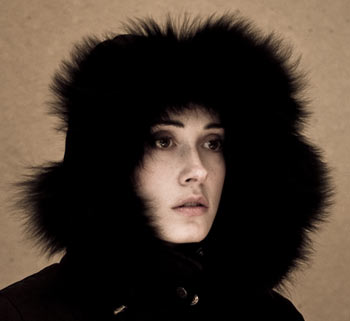 Meghan Wolf is as multifaceted as a sparkly cut gem. She's one of those artists who simply does it all — she's a singer/songwriter, guitar and piano player, she has her master's in fine arts, and she's an actress to boot! Formerly the lead vocalist of New York No Stars, a punk group based in — you guessed it — New York City, her debut solo album Theory of Gravity is a step away from the punk genre, very acoustic and chill — a sound reviewers tend to describe as "organic." Meghan took a few moments to discuss her background, her art, and the creative process behind her shining debut.
I read that you're originally from Western Massachusetts — a beautiful, hilly landscape that gets buried in snow each year. Living in Brooklyn, do you miss the rural landscape in which you grew up? Which environment do you feel you thrive in more?
I thrive in both locales, in different ways. The city really inspires me to write because there are so many provocative images and situations confronting me on a daily basis. Coming from a small town, it was a huge transition to come to a place where I'm surrounded by strangers in such close proximity. I find the energy and chaos of the city really stimulating and have learned to appreciate the unique beauty that can be found in urban settings. I do miss the woods a lot, though. I try to make time to reconnect with nature because it's a chance for me to get refueled…but I don't get away nearly enough. Upstate New York is one of my favorite escapes — the Catskills, Minnewaska State Park — those areas remind me a lot of my home state.
You received your MFA in performance — where did you go to school?
I studied performance at the University of Washington in Seattle and I went there right after finishing undergrad.
What do you feel you learned about yourself, as an artist, during grad school?
I learned discipline. And how to write. And to be fearless.
Do you prefer working as an actress or working on your music? Would you choose one over the other, if you could, or would you continue to do both?
I love acting because, as it is an interpretive art, I get to utilize my intuition a lot. I enjoy personalizing someone else's words — there is a lot freedom in the structure of a script. But music is my deepest passion. There is nothing as fulfilling to me as that kind of expression — the words are mine, the stories are mine. For that reason, music is the scarier of the two arts — but I have always been driven to make music.
I have had to choose in the past between certain projects and I usually make decisions on a case-by-case basis. I think I can do both things — they are not conflicting crafts, but…if I was stranded on a desert island and could only bring one? It would be music. Music gives me the most.
Another consideration is that acting is mainly how I support myself right now — so necessarily, I have to make compromises and some of the time it's just a job. With the music, I have more agency and can create on my own terms. That has a lot to do with my label, Sky Council Recordings, which gives me a lot of freedom.
You're the vocalist and songwriter on Theory of Gravity, but do you play instruments as well?
I play guitar and piano when songwriting, but not live or on the album. I am very shy about playing in front of people but am getting better about that. The next album may feature some of my piano playing!
What other musicians did you work with on the record?
Most of the music on the album was played by my collaborator, T.H. White. Ron Schaffer (of Atlantic West Studios), who mixed and mastered the album, played some of the instruments, too.
How did you get to know T.H. White?
T.H. and I met our first year of college; we roomed two doors down from each other. A few years ago, he invited me to collaborate on a song for his first album, More Than Before. Then we worked together again on his second release, The Private Spotlight. The songs we wrote together were kind of a departure from the rest of the songs on his albums in that they followed a more traditional singer-songwriter storytelling format. They got the attention of some of the people from Sky Council and they took me on for development as a solo artist based on that work. T.H. stayed on to write and produce with me.
When it comes to songwriting, what is your process like — do the words come first, or the music?
Sometimes I will write words to a song that exists already, but sometimes words will pop into my head with a melody attached to them. You know, I'll be walking my dog and singing to myself…people anywhere else would think I'm a crazy person, but here in Brooklyn no one even blinks. Sometimes, I will pillage old journals for lines to get something started. I'm learning how to be a better editor now, to strike a balance between being true to what I want to express while allowing myself to be ruthless with my own material — do what it takes to make the best song.
How long did it take for this album to come together?
It took about eight months to write and a year to record and produce.
Who are some of your favorite musicians and bands? Who did you grow up listening to, and who are you into currently?
I grew up on James Taylor, Judi Collins, Joni Mitchell, Leonard Cohen, The Moody Blues, Simon and Garfunkel, Pink Floyd — my parent's music. Went to a lot of folk festivals as a kid. Then when I was a teenager, I was into really mainstream rock and pop — my first concert was Def Leppard. I liked Guns N' Roses, Madonna, Cyndi Lauper, The Bangles, Bad Company, U2, Bruce Springsteen. Then in college I discovered indie rock and kind of never went back. Current faves include: Bat for Lashes, St. Vincent, Animal Collective, tUnE-YarDs, Empire of the Sun, Neko Case, and Tegan and Sara. I also recently developed a late-comer obsession with My Bloody Valentine — how did I live without them for so long?
After listening to Theory of Gravity, I was surprised to find out that you had once been the front woman of a punk band! After spending five years in New York No Stars, what caused you to gravitate towards this more acoustic, organic sound?
What I'm doing now is in many ways essentially the same. It's just not as fast or loud. I don't want to strictly define myself by genre because my sound is continuing to evolve as I learn more and more about production and writing. But the sound on "Theory" is the closest to what my voice really is as a musician.
I genuinely enjoy this whole record, by the way! "Take Everything" is definitely my favorite, although I have trouble nailing down exactly why. I love the distorted guitar on the track, as well as lyrics, which hit home. Do you have a song on the album you favor?
Thank you so much! That song was fun to write — it's our most rocking tune live. I think my favorite song right now is "Kind of Useless." The second verse when the keys and synth kick in is a good moment.
Along with this interview, we'll be featuring the song "There Will Be Nowhere" for the readers to download. I'd love it if you would elaborate a bit on what the lyrics mean to you, "VH1 Storytellers" style.
"There Will Be Nowhere" is a song is about losing control — how the things that define our lives can get a life of their own, run amok, devour us. I was exploring that theme as it relates to falling in love, global warming, and mortality. There is a lot of anxiety in the song. I was trying to evoke the helplessness that comes with loss of control and powerlessness — and facing the outcomes of the things we set in motion.
Are there any small touches that you added to a song that you felt really satisfied with or proud of, or a track you worked especially hard on?
"Pitchfork Hands" and "Resting Machine" were both done in one vocal take! I am also happy with the presence of the distorted guitar on the album — I asked for a lot of that to toughen the songs up a little, add tension…maybe a throwback to my punk rock days, I don't know.
Do you think you'll be touring much? It seems like you mostly stick around New York when playing shows.
I'd love to talk about the live show because we've put a lot of energy in to it the past year. We played a lot of shows and I have a fantastic band. I'm backed by acoustic and electric guitar, keys and synth, and percussion. We have mostly stuck to home (where better to play?) but would love to tour. This is something the label is working on right now. We are waiting for the right circumstance.
Do you have plans to work on a follow-up? If so, when do you anticipate you'll release it?
I have started writing album number two! Realistically, it will probably not be done until the end of 2010 or 2011. But there may be an EP to look forward to in the meantime.
The bio that was sent out along with your album said that you were currently working on a Nancy Meyers film with Meryl Streep, Steve Martin, and Alec Baldwin. To me, that sounds like her latest film, It's Complicated. Is that the project you were involved in? What was your role?
Yeah, I played a waitress but I'm not in the final cut of the film. I did get to work with Meryl Streep for two days, though, which was fantastic.
Anything else you'd like to add or plug? I'm thinking of things like work with charities, side projects you're working on, developments in your personal life, people that have helped you along the way, businesses in your neighborhood that are awesome, bizarre facts about yourself, etc.
I am a volunteer writer for Ollie's Place, animal rescue.
I love Gorilla Coffee, (local to Park Slope) and the Brooklyn Flea.
I have eight siblings. My parents have adopted three children; the youngest is under two years old.
I'm a transhumanist.
Some day I want to learn about medicinal plants.
My family has always been really supportive, they bought me my first four-track recorder.
I play my dad's classical guitar from the '60s.
I produced my first music video last year and hope to do more of that in the future.