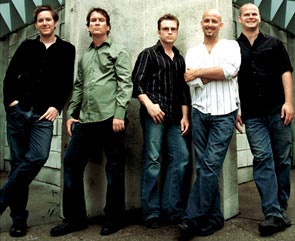 New Orleans is a city defined by its unique and colorful history. It's for that reason that most tend to view the place as something of a musical museum while ignoring the town's vibrant and innovative new music. In New Orleans, the hip-hop at the heart of today's culture emerged from an energetic, highly eroticized and occasionally gender-bending music called "bounce." And the truth is, all the town's seemingly disparate styles — jazz, brass bands, and funk, as well as the newer "bounce" influenced hip-hop, are all intrinsically linked. There is a particular inclusiveness about the place which connects both its people and their music. And now, for the first time ever, all these sounds have been combined on one undeniably original record. With Ya-Ka-May, longtime New Orleans residents Galactic have made an album that reflects the city as they see it, blending all the town's distinctive sounds in a way no band has before.
Ya-Ka-May is set to be released February 9, 2010 on ANTI Records. The album features established legends such as the Rebirth Brass Band, Irma Thomas, Big Chief Bo Dollis, Allen Toussaint, and Walter "Wolfman" Washington with younger artists like Trombone Shorty and Corey Henry, John Boutté, Josh Cohen and Scully, and Glen David Andrews, as well as groundbreaking new "bounce" artists like Cheeky Blakk, Big Freedia, Katey Red, and Sissy Nobby. The end result is New Orleans like it's truly meant to be heard, and pure Galactic.
Click (control click for pc) to download!
[download id="99″ format="1″]