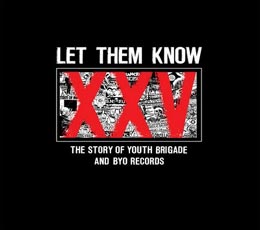 I'm going to say this right off the bat: if you're not considering buying this box set, there's going to be an emptiness in your music collection, thus making the rest of your collection worthless without it. I was so excited to get my hands on this that I had to tell somebody. So I called my friend Alvin, who I assumed knew a lot about California punk rock. But when he told me that he never heard of Youth Brigade or BYO Records, I felt like shoving his ass into a time machine and transporting him to LA 25 years earlier. I had to resort to explaining that BYO was responsible for the Rancid/NOFX split — that got the gears working in his head. I can only hope to god the rest of you don't disappoint me.
The box set comes in different forms — I received only the CD and the DVD documentary, but the complete package also includes two LPs and a coffee table book. Stuff like this will really compliment your music collection. The documentary tells the tale of three brothers who started a band called…you guessed it, Youth Brigade. The documentary is much like other punk docs: American Hardcore comes to mind first and foremost. In many ways, Let Them Know is superior to American Hardcore because it concentrates on only one band and one city, while American Hardcore had to put the spotlight on many hardcore punk bands in many cities in the 1980s. Let Them Know features interviews with Fat Mike, Ian MacKaye, Matt Skiba of Alkaline Trio, as well as members of Bouncing Souls, 7 Seconds, Swingin' Utters and many more. And, of course, this film would be nothing without interviews of all four Stern brothers. Since Mark and Shawn Stern are the masterminds behind Youth Brigade and Better Youth Organization Records, you'll become comfortable listening to their deep, soothing voices. If punk rock was a university course, Let Them Know would be required material.
The CD is even better and 10 times more exciting than the documentary. BYO Records has always produced great compilations, but this one is possibly one of the best: 31 tracks, each a cover of a song found on a record released by BYO. You have Youth Brigade playing SNFU, Bouncing Souls playing 7 Seconds, Anti-Flag playing the Unseen, Krum Bums playing Alkaline Trio. I'll tell you, it's like a big punk rock swingers party, a massive musical orgy, with Lower Class Brats jacking off in the corner because they're the only band with an original song on this compilation. I listened to the originals before each cover to see how differently they were altered. Some bands kept the essence and changed their own style to suit the style of the original, like NOFX's version of "No More Lies" by Battalion of Saints. Others differ immensely from the originals, such as The Ignorant's cover of "Keep On" by Hepcat.
My personal favorites have to be Dropkick Murphys doing "Fight to Unite" and 7 Seconds doing an acoustic number of "Sink With California," both originally by Youth Brigade. However, one track that stands out the most is Old Man Markley playing a Celtic-folk version Youth Brigade's "We're In!" Pure musical genius. But don't take my word for it — get it yourself! Money should be no object when you're dealing with something as desirable as this.
(BYO Records, PO Box 67609, Los Angeles, CA 90067)