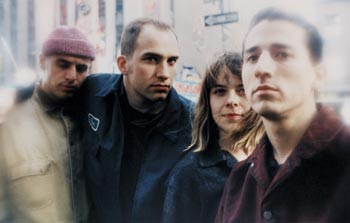 Call them "indie," call them "emo," call them "post-hardcore," "alternative," or "punk" — however you choose to label them, Jawbox endured as one of the most revered and influential rock bands of the 1990s. Brought up on Washington DC's Dischord Records and introduced to the masses via two major label records on Atlantic, the band ran the gamut from basement shows to arenas, and left an indelible mark on the face of music.
Jawbox broke up in 1996, and never played another show…that is, until December 8, 2009, when the band broke more than 12-and-a-half years of dormancy to perform on Late Night with Jimmy Fallon. The surprise appearance, in which the band performed "Savory" for the show taping and three other tracks for an in-studio "mini-concert," came on the heels of the CD and vinyl rerelease of For Your Own Special Sweetheart. "Sweetheart," the band's 1994 major label debut, was remastered and redesigned by Dischord Records, and co-released by Dischord and DeSoto Records.
Bassist (and DeSoto Records owner) Kim Coletta took some time shortly before Christmas 2009 to answer a handful of questions, and reflect on the brief yet momentous reunion of the band.
Back in 2005, when I interviewed you for Verbicide issue #15, you mentioned that it took you "forever" to acquire the rights to For Your Own Special Sweetheart and the self-titled album, and required a lawyer and a $10,000 payment to Atlantic. Now, four-and-a-half years later, you're finally reissuing Sweetheart with Dischord. After all you went through just acquiring the album's rights, what have been the biggest challenges and/or obstacles in getting the album ready for its rerelease?
Well, I don't think we ever planned on rereleasing it again on CD and vinyl. I put Sweetheart up digitally as a DeSoto release when I got the rights back and thought that was the end of it. But this last summer Dischord came to me with the idea of remastering and re-releasing Sweetheart. They've been doing that with a lot of the older Dischord records. I talked to the rest of the guys in Jawbox and everyone thought it was a great idea. I'm super busy and haven't been doing much with DeSoto Records so this was the perfect situation — the record has a DeSoto imprint, but the folks at Dischord are doing lot of the heavy lifting, from art coordination to manufacturing to distribution.
Regarding the new artwork, is it something that you did out of necessity (since Sweetheart was released in 1994 and the original artwork is probably long-gone), or is it something you wanted to do to make this reissue unique from the Atlantic version?
Atlantic was good about returning our masters, but never found any artwork. And I couldn't find the artwork. I'm happy that we couldn't find it! Jason Farrell did the new artwork and I love the homage to the original, but with a more modern feel to the look and typography.
Even though it's been 12 years or so since Jawbox disbanded — and 12 years since your relationship with Atlantic ended — what's it like working with Dischord again? I recall you telling me that your "fundamental way of doing business is exactly modeled after Dischord." Is it refreshing to be working with Jeff, Ian, et al?
It is a pleasure to work with Dischord again — for me it's like putting on an old, warm, treasured sweater. I count Ian as a good friend; we've played softball together every summer for the last 15 years so I see him a lot. Jeff now lives in Toledo, OH so he's not involved in any day-to-day stuff at the label. The actual crew at Dischord of Michael, Alec, and Brian kicked some butt getting this release out. We worked with a pretty tight deadline, yet they made the process very stress-free for us.
Another thing you mentioned to me last time we spoke in '05 was that Jawbox was working on two new songs to be included on the eventual rereleases of the major label albums. Did those tracks get shelved, or are they still in the works?
We never began working on them, although it was a nice idea. We are currently exchanging some new material via MP3s and email. Again, I'm not sure where it will go, but it's great fun.
I'm very curious to know, is the 1996 self-titled album next in line for reissue, maybe in 2010?
No plans are in the works yet, but it's not out of the realm of possibility. I would be into doing it if Dischord was.
If so, will you still be able to include the incredible Tori Amos cover that was a hidden track on the Atlantic release, or would it be to expensive or difficult to procure rights to that song again?
I could see including that track; I always really enjoyed covering "Cornflake Girl." You don't need to get the rights to record a cover song — you just need to pay the proper royalties.
Jawbox reformed for a special one-time performance on Jimmy Fallon on December 8th. Any chance that you guys just might play a few a more shows, even if only locally in the DC area?
Playing with Jawbox again on Fallon was amazing. The Fallon people opened up the studio at lunchtime and we played a mini-set of four songs to a small audience: "Savory," "68," "FF=66," and "Desert Sea." Later in the day, we played "Savory" for the actual show taping. It was so cool to reunite with a lot of old friends and to have the performances professionally recorded. Fallon, all his crew and his house band, The Roots, were all great to us.
We had so much fun playing Fallon that we might consider special shows in the future. But right now we've only re-learned four songs so there's a way to go!
Off the topic of band stuff, I'd love to know how your librarian career is going. Are you still working at a middle school?
I do still work occasionally at an all-boys' middle school, but as a substitute teacher. I wanted more flexibility in my schedule while my son Nick is young. I'm sure I'll get back to librarianship in the future, although I really enjoy teaching as well.
You're all parents in Jawbox, right? I'm guessing your kid is about eight or so, and came along long after your careers as touring musicians ended — what does he make of mom and dad getting to play on late-night TV?
Nick is eight years old and in third grade. We decided not to take him to New York with us for the taping and I think that was a good call; it would have been a long, boring day for him. We played the show for him on TV when we returned. When the song was over he said, "That was good, can I go play Legos?" It cracked us up; he doesn't really have a context for any of this. Bill also has a theory that this generation of kids is used to seeing themselves and others on home videos, Youtube, etc., so it's not a big deal to them.
Zach doesn't have any kids and J. has one son, Cal, who's almost four.
How are J. Robbins and Janet Morgan doing with Cal? A few years back, you were accepting donations to help them with the expenses from his medical condition, Spinal Muscular Atrophy. For those who are interested, is it still possible to donate?
Cal is doing great, all things considered. There was a big scare last winter when a common cold he had morphed into pneumonia and he spent five weeks in the PICU at Johns Hopkins. We're all crossing our fingers that he will do better this cold and flu season.
J.'s house has been modified with wheelchair ramps and Cal recently got his first powered wheelchair. He has a little movement in one hand and is able to control the chair himself. It is just beautiful to watch this little boy power around the house on his own.
You can make a donation directly to the Robbins' family through a link on the DeSoto site. Or you can donate directly to the Fight SMA organization: http://www.fightsma.org/