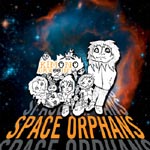 It seems that these three guys with a bend towards pop culture love Don Van Vliet (aka Captain Beefheart), surreal compositions, and herky-jerky rock fun, recorded a slew of tunes (10 to be exact) and then nothing, nada, zip.
So, three years later (i.e., now), the recordings get remixed and remastered and polished up. So this is a new record that's three years old. And it's so wonderfully odd…so beautifully un-mainstream…so not what most of your friends are pumped up about, dude. While the rest of humanity is figuring out a way to be the next band to sound like the 34th generation of watered down pablum that crimes Dave Matthews, Shinedown, Hatebreed, Sabbath, Rush, or who-the-fuck-ever, these cats plainly don't give a toss and are letting the shit just flow out of 'em; be it rock ("Pain Train") or pop tunes ("My Music/Foxy Joey").
Good and innovative. Big score.
(Spaynsive Productions, 98 Sugarbush Drive, Guilford, CT 06437)