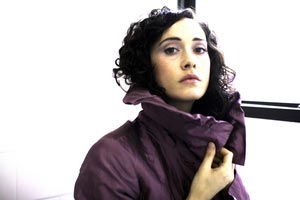 Raised on 20 wooded acres in Western Massachusetts, artist Meghan Wolf often found herself lost to the quiet of the forest and the rhythms of the natural world.
"Walking and water bring melodies and words to the surface for me," she says. "When I was a kid, I would spend hours wandering the woods and making up little pieces of songs." These days, Wolf calls Brooklyn her home, and is equally inspired by the urban sights and soundscapes that surround her: "I find the city and its teeming, crashing life fascinating. And when I pass by a crumbling brownstone or a converted warehouse, I can't help imagining the lives going on inside."
On her first album, Theory of Gravity, Wolf debuts a musical presence that is both down-to-earth and cosmopolitan, blending organic rhythms and soulful lyrics with modern beats and an urban vibe. Her penetrating vocals and impassioned performance recall virtuosos Joan Baez and PJ Harvey, with contemporary undercurrents of Radiohead and Morcheeba.
Right click (option click for mac) to download!
[download id="68″ format="1″]