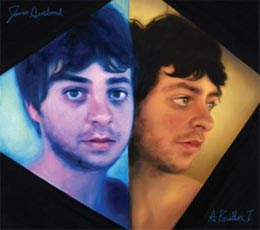 Some solo projects turn into spats of vanity filled with self-indulgent noise. Others just are nowhere as good as the band as a whole. Happily, of Montreal's James Husband avoids both of these with the stellar A Parallax I.
The album keeps the jangly indie-pop sounds of of Montreal, but eschews the more ornate elements, leaving a raw, powerful record. A Parallax I itself is a recording marvel, with three different methods used and stitched together into a tightly coherent album. The whole sound takes its cues in equal parts from modern indie-pop and British Invasion sounds from The Kinks and The Zombies.
"A Grave in the Gravel" is a standout track, with equal parts rock guitars and harmonic layered vocals. Of Montreal fans will love this album and even people who never got into of Montreal will like the purity of the music from the construction to the melodies to the production that A Parallax I offers. This is simply a stunning disc.
(Polyvinyl Records, PO Box 7140, Champaign, IL 61826-7140