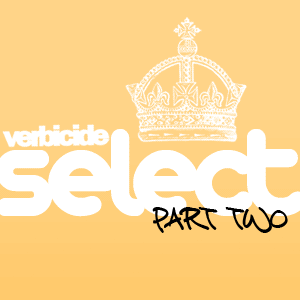 Just in time for the holidays, VerbicideMagazine.com is excited to release Verbicide Select Mixtape Volume 2! With even more tracks and more variety than Volume 1, this new mixtape will appeal to fans with a wide range of musical taste. From indie rock, to electronic dance, to new- and old-school hip-hop and hardcore punk, Verbicide Select Mixtape Volume 2 covers the bases with a selection of some of our favorite cuts of the past month.
And, of course, it's 100% FREE to download and share with your friends and family around the holiday dinner table. Has Santa Claus visited you early this year? No, it's just your friends at VerbicideMagazine.com giving free shit away like it's nobody's business.
Click (right click for pc) to download!
[wpdm_file id=11]
1. Black Sheep
"Forever LuvLee"
From the EP From the Black Pool of Genius
Courtesy of Bumrush Entertainment
www.whostheblacksheep.com
2. Xiu Xiu
"Volcana! (I Hope Your Train Crashes remix)"
From the album SCORE! 20 Years of Merge Records: THE REMIXES!
Courtesy of Merge Records
www.mergerecords.com
3. Jack Splash/Kelis
"In The Future"
From the album Heir To The Throne Vol. 1
Courtesy of J Records
www.jrecords.com
4. Love Grenades
"Tigers in the Fire"
From the album Tigers in the Fire
Courtesy of Modus Vivendi Music
www.modusvivendimusic.com
5. Nirvana
"About a Girl"
From the album Bleach: Deluxe Edition
Courtesy of Sub Pop Records
www.subpop.com
6. ZAZA
"Repetition"
From the album Cameo
Courtesy of Kanine Records
www.kaninerecords.com
7. Amish Electric Chair
"State of the Union"
From the EP Straight No Chaser
Courtesy of GC Records
www.gcrecords.com
8. Salem
"Frost"
From the "Frost"/"Legend" 7″
Courtesy of Audraglint Recordings
www.audraglint.com
9. Cage
"Look at What You Did"
From the album Depart From Me
Courtesy of Definitive Jux
www.definitivejux.net
10. Sareem Poems
"Rude Awakening"
From the album Black & Read All Over: Deluxe Edition
Courtesy of Mello Music Group
www.myspace.com/mellomusicgroup
11. Brasstronaut
"Requiem For a Scene"
From the EP Old World Lies
Courtesy of Unfamiliar Records
www.areyoufamiliar.com
12. Strung Out
"Black Crosses"
From the album Agents of the Underground
Courtesy of Fat Wreck Chords
www.fatwreck.com