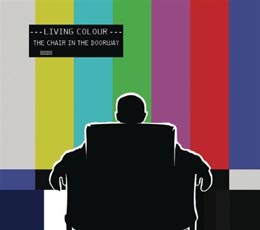 Yup. The guys who ripped up the mainstream with their tunes "Cult of Personality," "Open Letter to a Landlord," and "Glamour Boys" have put out this, their first new studio release in more than five years. They had a bunch of records in between then and now, but frankly, I lost touch with 'em after the initial onslaught. So what's this like? Is it rockin'? Is there a big blow-out single?
Kinda, yeah. I mean, it's rock in that radio-friendly style. But it does get good and nasty at times. The tune "Decadence" slugs it out pretty well, as does "Behind The Sun" and the blues-to-hard-rock song "Bless Those." There are little snippets of electronic blips and bleeps in some tunes that enhance and don't make it all techno and corny. Just enhancers. Also, guitarist Vernon Reid (who is the other original member besides front man Corey Glover) keeps his signature "12 thousand 64th notes into a measure" guitar playing to a minimum. He drops it now and again to let you know he still can pull it off well, but it's not the focal point of the songs.
Overall? A real good release — mostly solid tunes that rock. "Hidden Track" is a hard pop song and it's pretty funny. "Cult Of…" fans will definitely dig it.
(Megaforce Records, PO Box 1955, New York, NY 10113)