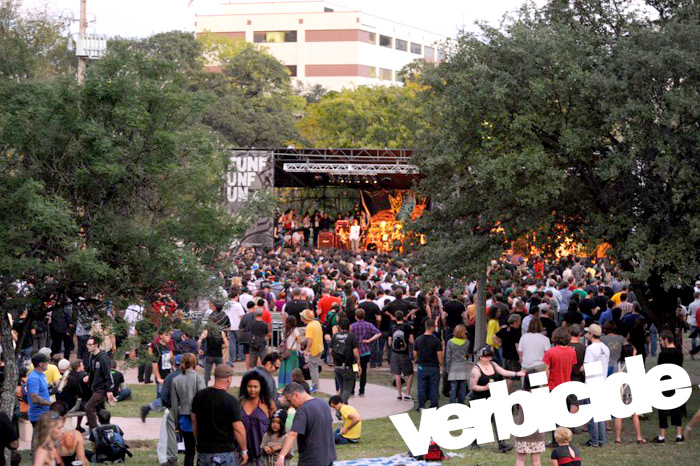 "This fest doesn't attract the asshole crowd of fuckin' Dr. Seuss hats and annoying festival dipshits," said Mike Sullivan, guitarist of Russian Circles, while sitting in the media tent at Austin's Waterloo Park on November 7. Austin-based Transmission Entertainment's fourth annual effort to host a music festival with an emphasis on independent music — otherwise known as the Fun Fun Fun Fest — garnered accolades and rave reviews of performers and attendees throughout the weekend-long festivities.
"I like it," echoed guitarist Dner of The Night Marchers, whose upbeat performance was a festival highpoint. "I'd give the fest a thumbs up.
"[There are] more people here to listen to music and enjoy music, and a little less business," he added.
Thanks to the festival's multi-stage setup, there was minimal downtime time between performances. In general, the proximity of the festival's four stages (Orange, Black, Blue, and Yellow) made it easy to navigate between the featured genres of punk, hardcore, indie rock, hip hop/DJ, and comedy. These are clearly the benefits of a music festival organized by those in the music scene who "live it every day," as the FFF Fest website boasts.
—
You couldn't ask for better weather on day one, November 7: scattered clouds and the lucky ol' sun shining down on some of Austin's small, independent businesses, arranged in booths in the middle of the park. At no time did I feel like one of so many cattle in line for a cheap thrill and a $16 beer, as is the usual M.O. for most music festivals.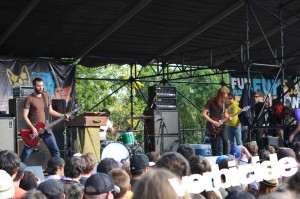 Russian Circles, who performed mid-afternoon, were perfect for the festival. Sullivan led each of the instrumental trio's movements with swelling and atmospheric reverb-drenched guitar noise, building into intricate metal riff crescendos that the band locked into. I caught Russian Circles after getting scorched by their tour mates the Young Widows. The Young Widows' angular, dissonant, and delayed guitar lines punctuate frontman Evan Patterson's bleak lyrics. He's backed by the distorted and heavy pig bass of Nick Thieneman, and aggressive start-stop rhythms from Jeremy McMonigle. Their glowering, dismal-black set was a perfect counterpoint to the surfer/post-punk rock of The Night Marchers. Playing almost simultaneously to Russian Circles were the veterans of Japanese band Shonen Knife, who performed on the Orange Stage.
At one point I found myself just beyond the Yellow Stage, perched beneath a tree. The moon and skyline of downtown were rising above where Austin's Shearwater was playing their melancholy set. I volleyed between the Orange and Black Stages as darkness fell, to catch Detroit's Death and the explosive-awesome energy of 7 Seconds.
Later, the masses congealed under the night sky to see Les Savy Fav on the Orange, but my money was on the mighty Jesus Lizard scheduled to play the Black Stage. I arrived at their set just as singer Tim Harrington was attempting to get vertical on the ladder he sent out into the crowd.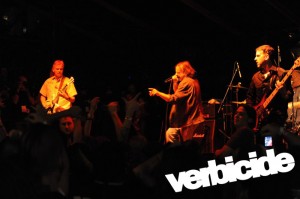 Seeing the Jesus Lizard on Saturday was an emotional experience for so many reasons, not the least of which was that the guys' family and friends were there to see them in the town where it all began. I watched in disbelief as the band thundered through the classics of "Thumper" and "Destroy Before Reading." I marveled at the durability and sophistication of their latter-day material from Shot. They were clearly happy to be reunited with original drummer Mac McNeilly, evident in the way the remaining three members watched Mac take a typically bombastic drum solo before encore. The band was all hugs and smiles backstage and out in front after everyone had cleared out at the end of the first day.
"The festival was a blast. Everybody was really sweet. Now I gotta go settle up with the merch guy," bassist David Wm. Sims said to me among the scattered empties out front of the Black Stage in a now empty park.
—
On day two, November 8, I slid into Waterloo Park under a foreboding sky at noon on Sunday and made my way to the Black Stage. I could hear the colossally loud sludge of Austin's The Roller from about three blocks away up Red River.
"It's nothing but people with smiles on their faces," said Theron of The Roller. "It's everything we grew up with — it's all we know. [There's] nothing else like it…it's across the board, that's the rad thing — this fest caters to that so well."
Not only the big names on Transmission Entertainment's roster prove Theron's point. After catching his band, I saw Austin's Pack of Wolves and Philadelphia's Reign Supreme. I couldn't help but notice the Pack of Wolves' homage to old school speed metal. It wasn't mere mimicry either, as the band offered a contemporary twist on that recipe with its sometimes bass-heavy grooves and dissonant melody lines.
"Transmission Entertainment, the guys that put this on, they really do their homework," Trey Ramirez of Pack of Wolves commented while we shared a dry moment in the media tent. "They brought a lot of bands they came up around, which is rare because I think a lot people put festivals together with the idea of rakin' it in and getting those premier corporate acts.
Immediately after Pack of Wolves, Philadelphia's Reign Supreme brought their new-school hardcore for the enjoyment of the eight or so kids helicoptering their arms on the courtyard in front of the Black Stage.
Then the torrential downpour began. I had to get my laptop undercover, but I also wanted to see Lightning Malcolm and Cedric Burnside. There were about four or five girls dancing in front of the Yellow Stage and that made Malcolm smile. He played finger-picking blues reminiscent of R.L. Burnside (Cedric's uncle), while Cedric backed him on drums and vocals.
Heading back to my car to dry off and take notes, I could see a sea of umbrellas, ponchos, and plastic from backstage at Orange; an oddly silent moment of a crowd in the rain, waiting for Atlas Sound to play. I wanted to be back to the festival in time to see Lucero on the Orange Stage and Austin's the Riverboat Gamblers on Black — followed, of course, by the legendary DRI and Gorilla Biscuits.
When I got back to the park the mud had taken over and walking had become difficult. This didn't stop fans from checking out Lucero, sounding big and full with their expanded lineup of horns, pedal steel, and keys.
I trudged over to Black to experience Austin's Riverboat Gamblers putting forth so much energy one could swear steam was rising from frontman Mike Wiebi.
"It's definitely better than any kind of drug. There's very little else in life that compares to it — when you have those super awesome moments on stage, where everything's going right," Wiebi said to me a couple of days after the festival. Guitarist Ian McDougall took time away from recovering in the hospital (due to a bad bike accident) to sing with the throngs of fans and crew onstage.
I wandered over to Orange to catch some Mission of Burma before DRI took to the Black Stage. It was there I that met Bart, from Austin. Bart came equipped this year, replete with homemade Fun Fun Fun Fest umbrella, beer cozy from last year, and "Airplane bottles of liquor that I snuck in." What does a three-year veteran of the fest have to say about Fun Fun Fun Fest?
"It's really awesome; they've been raising the amount of bands, the amount of stages. They have simultaneous stages, [and there is] never any down time. You can bounce, bounce, bounce. Even in the rain, everybody's having a great time."
It continued raining as DRI killed it, tying the Gorilla Biscuits for the biggest pit of the festival. They sounded tight, mean, and fast. The pit was a giant circle of skanking, dirty punks. After more than 20 years, DRI still comes with the angst and malaise they are famous for — that pent-up, anti-social feeling of adolescence.
"[Fun Fun Fun Fest is] pretty much my record collection live," Brian Venable, guitarist of Lucero, commented as the Gorilla Biscuits' set ended and Danzig's deafening soundcheck began. Fifteen years since the city had last hosted him, Danzig sounded good with his new band, wowing the Austin crowd with new and classic material. When it comes to lonely and black, Glenn Danzig really nails it as a songwriter.
And then the fun was over.
I ran into Arthur Smilios, bass player of the Gorilla Biscuits, after Danzig's set. "This was fantastic — I can't believe it's over."
"It feels like the day after Christmas now, where I don't really have much to look forward to," Wiebi of the Riverboat Gamblers said to me on the phone the Tuesday after the festival.
Wiebi's sentiment about sums it up. What I came to understand about Fun Fun Fun Fest is that this is the music we grew up on, the music that we love. Transmission put the creators all under one tent across four stages, and they maintained the intimacy between band and fan that is so coveted in the underground.
And it was fun.
So much fun, in fact, that it made going to work much harder on Monday. But thanks to Transmission Entertainment and all the folks at Fun Fun Fun Fest, I can rest assured, knowing that the scene has survived.