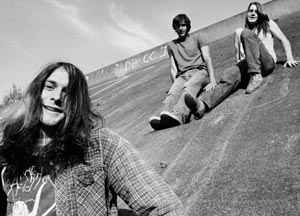 In 1992, Nirvana's Nevermind went number one — bumping Michael Jackson's "Dangerous" off the album charts. They were anti-rock stars who fought their stardom while courting it, becoming an unprecedented multi-platinum sensation. The music world has not been the same since.
Marking the 20th Anniversary of Nirvana's debut album, Sub Pop will re-issue the Platinum Certified Bleach on November 3, 2009. This expanded CD/double-LP will include a never-before-released live performance, special packaging and the first run of the double-LP will be on 180g white vinyl (the first run of the original LP was also on white vinyl). A 48-page CD /16-page LP booklet which includes candid photos of the band not previously released to the public will also be included in this deluxe edition.
Click (control click for pc) to download!
[download id="44″ format="1″]