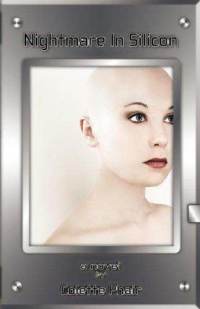 Originally published in Verbicide issue #25
Chiasmus Press, 96 pages, paperback, $14.95
Do you remember when Spielberg's AI came out and every review seemed to mention that it had long been a pet project of Stanley Kubrick, and then went on to lament what an amazing creation it could have been in his hands? It was tough not to imagine his version, how strange and cold and austere and awesome he would have made it if the guy wasn't, you know, totally dead.
While in no way the same beast, Colette Phair's debut novella Nightmare In Silicon is the closest analog to an imaginary Kubrick AI that you're likely to find —  you've got your exacting, precise storytelling and language, your cold and ugly images viewed through a beautiful lens, and a overall sense of paranoia. Plus, a robot fucking a woman who has removed her own eyes.
The plot centers on a girl named Ymo who lives, loves, and parties freely with her roustabout friends until a fatal illness and the specter of encroaching madness drive her into the office of Cybon Laboratories. Doctors offer her a simple solution: "Our scientists will deliver lethal injection, slice open your brain, and scan it into a computer. You wake up a robot."
Ymo buys in without fully realizing what life as a consciousness inside of a machine might be like — not sleeping, not dreaming, limited sensory input, losing your sense of time in light of your new immortality.
Things get weird, ugly, and grim. Phair's clinical approach to the narrative gives a needed distance from scenes that might otherwise be too cloyingly dark or melodramatic in the hands of another young writer. And since Ymo becomes a gender-neutral machine, Phair pulls a cute linguistic trick and shifts "she" and "her" to "zie" and "zir," which is jarring for about two seconds until you adjust. Phair's use and economy of language is excellent throughout, and she manages to convey death and decay and madness without her prose going purple. I wished for a more passionate style of narrative in the early non-robotic sections of the book, to reflect a greater contrast with Ymo's eventual condition, but at 96 pages any gripes are minor. This is a single-sitting cinematic serving of nasty science fiction with a very human drive under the cool, robotic veneer.
The book comes from Portland indie publisher Chiasmus Press with acclaim from cyber-luminaries like Rudy Rucker and Paul Di Filippo. On top of that, it caught the attention of Alan Moore (Watchmen, V For Vendetta, the best Swamp Things fucking ever — you know the guy) who called it, "A toxic-shock torrent of bad energy and beautiful language…" So it's got that going for it.
People always say this about youthful authors who come out swinging, but I really am looking forward to seeing what Colette Phair delivers next. In the meantime, Nightmare In Silicon is definitely worth adding to your reading list.