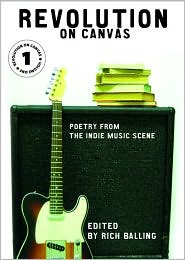 Originally published in Verbicide issue #19
Warner/Ad Astra Books, 224 pages, trade paperback, $12.95
True story: I was shopping the other day when I heard a 70-some-year-old man say to his wife, "Well, that's all music is nowadays…it's nothing but noise."  Smiling to myself, I glanced in my bag where I spotted Revolution on Canvas, a collection of poetry, prose, and illustrations from many of today's indie musicians. In the old man's defense, the muzak the store was doling out consisted of a jumpy dance track with a woman cooing and presumably using her hands to pick notes out of the air. True, it was intolerably fluffy. But then I thought about the poetry contained in the anthology and how that man didn't know how wrong he was.
Edited by Rich Balling, the same man responsible for the band The Sound of Animals Fighting, the collection is as eclectic in taste and topic as are the indie bands currently on the music scene. The entire book houses a completely postmodern sensibility. A lot of the text has to do with personal examination and the struggle between artistic and individual quests within a modern world.  For instance, Joey Cape from Lagwagon uses his poem "The Arms Race of Sound (Lullaby)" to both explore and criticize the very medium he uses to artistically express himself. What results is a turbulent marriage of self-questioning and social commentary.  Many of the poems convey the same problem that comes with being an independent artist: creating art that reaches a wide audience while refusing to make it the product of some higher corporation.
Stylistically, the poems in this anthology could only be the work of musicians. When you read the poems, it is evident that sound is a driving factor in how each word is chosen and placed. I was pleasantly surprised at how many Walt Whitman references were made. These men (as men they all are) are not the first poets to pay homage to Whitman. Allen Ginsberg's poem "A Supermarket in California" is almost a love letter to the great American poet. In Revolution on Canvas, Brian Martinez follows suit by writing a letter to Ginsberg in poem form. It is completely endearing and one of my favorite poems in the collection.
The collection ranges from poems that rant about the government, or parents, or growing up, to those that are so intimate and heartbreaking that you start to wonder if you haven't mistakenly picked up some cool kid's diary. From the beginning, middle, and end of relationships to being on tour in a terrible town, the poems are all written with intense honesty. Some are sardonic, some are sweet, and all are sure signs that poetry is just as relevant as it has ever been. I read somewhere that Johnny Rzeznik once said, "Punk's not dead, it's just at K-Mart." I like to think that modernist poetry has fared a little better than that. Maybe it's not dead. Maybe it's just been hiding in a Fender this whole time.