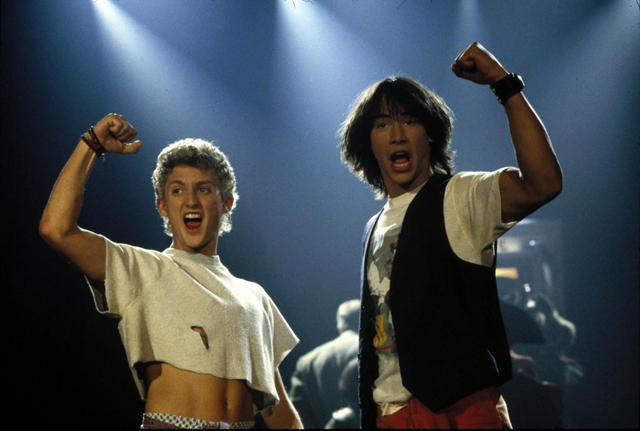 Who would have ever guessed? A third movie to follow up Bill & Ted's Excellent Adventure (1989) and Bill & Ted's Bogus Journey (1991) is forthcoming — and actor and documentary filmmaker Alex Winter (Bill) has revealed some details, including that it will feature multiple versions of Bill S. Preston, Esq., and Ted "Theodore" Logan.
From an interview with Yahoo! Movies:
"[Bill and Ted] will be 40-something and it's all about Bill and Ted grown up, or not grown up," Winter tells us. "It's really sweet and really f—ing funny.
"But it's a Bill & Ted movie, that's what it is. It's for the fans of Bill & Ted. It fits very neatly in the [series]. It's not going to feel like a reboot. The conceit is really funny: what if you're middle-aged, haven't really grown up and you're supposed to have saved the world and maybe, just maybe, you kinda haven't?"
"There's many versions of ourselves in this movie," he continues. "[It's] answering the question: 'What happened to these guys?' They're supposed to have done all this stuff, they weren't the brightest bulbs on the tree, what happened 20 years later? To answer that question in a comedic way felt rich with possibility."
Unfortunately, as reported on ComicBook.com, the film isn't going into production any time soon, especially due to current lack of funding — plus the fact that Orion Pictures, which owned rights to the film series, no longer exists.