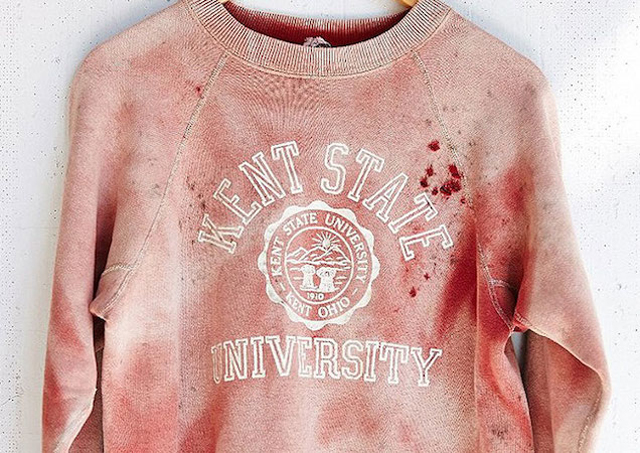 The always-classy chain retailer Urban Outfitters has recently put up for sale a "vintage" Kent State sweatshirt splattered in fake blood as an apparent homage to the 1970 shooting that left four dead.
The sweatshirt is now listed as "sold out" in Urban Outfitter's online store. It appears to have been a one-off sale: "We only have one, so get it or regret it!" stated the website.
Of course, UO didn't mean any harm. It was totally a coincidence. Urban Outfitters issued the following statement, via their Twitter account:
Urban Outfitters sincerely apologizes for any offense our Vintage Kent State Sweatshirt may have caused. It was never our intention to allude to the tragic events that took place at Kent State in 1970 and we are extremely saddened that this item was perceived as such. The one-of-a-kind item was purchased as part of our sun-faded vintage collection. There is no blood on this shirt nor has this item been altered in any way. The red stains are discoloration from the original shade of the shirt and the holes are from natural wear and fray. Again, we deeply regret that this item was perceived negatively and we have removed it immediately from our website to avoid further upset.
(via Gawker)