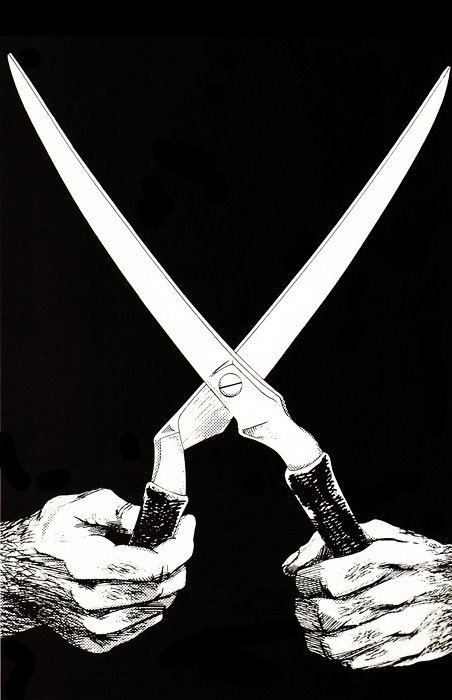 In 2013, two versions of Black Flag suddenly sprung up: FLAG, featuring four ex-members of the band, which has been touring all summer playing a best-of collection of songs, and the "official" version fronted by band co-founder Greg Ginn featuring vocalist Ron Reyes, which is also touring and recording the first Black Flag album since 1985.
Unfortunately, the competition has culminated in a lawsuit.
On Friday, August 2, 2013, Greg Ginn sued his former band mates, seeking an injunction against their current tour, which kicked off in May and will stop in Los Angeles (pending this case) for FYF Fest on August 24th. The suit describes the alleged infringement of the logo and name "Flag" as "a colorable imitation" that's "likely to cause confusion, mistake or deception among consumers."
Ginn claims he and his label, SST Records, exclusively own the rights to the Black Flag name (and "Flag" variation) and logo, which Flag use on tour.
Interestingly, while not actually a part of any reunion, former vocalist (and most famous ex-member) Henry Rollins has also been named as a defendant. However, as divulged in the 55th, 56th, and 57th paragraphs of the suit, on September 12, 2012, Rollins (aka "Henry Garfield") and Keith Morris jointly applied to trademark the term "Black Flag," as well as the Black Flag logo.
Ginn Ginn accuses Rollins and Morris of lying to the trademark office on registrations. He also accuses the members of FLAG of using his own label's record covers to feign as though they've been continuing to use Black Flag since 1979, and, in what's alleged to be an act of "outrageous fraud," using bootleg SST Records t-shirts in an attempt to show they've been making such products in that time.
The members of FLAG have remained mum on their strained relationships with Ginn; however, Rollins has noted several times — the following quote is from a 2011 LA Weekly article — that "Greg Ginn doesn't pay royalties. No royalties, no statements, nothing. At least not to me and several of my old bandmates."
Click here to read the suit. Or, if you'd rather just listen to some tunes, click here for the top 10 Black Flag songs.
(via Hollywood Reporter)