SLEEP TIGHT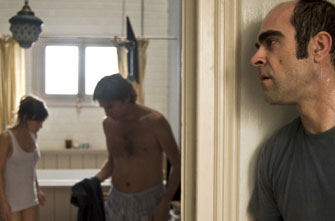 Filmmax Entertainment
108 min., dir. by Jaume Balaguero, with Luis Tosar, Marta Etura, and Alberto San Juan
Strange events encompass everyone's lives, and they're often unexplainable. Even the most rational, confident person in the world surely has moments of unsettling paranoia. It's rare for film to follow the perspective of the source of someone else's fears and discomfort, and it's Sleep Tight's tackling of this view that makes it such an interesting journey.
Life seems bright and cheery for the residents of a nondescript Barcelona apartment building. Even dealing with a seemingly difficult schedule, Cesar (Luis Tosar), the building's doorman, has a cheery disposition, going out of his way to please the residents beyond what his job responsibilities call for. However, Cesar is not the saint he first appears to be, and to say he has a chip on his shoulder would be too polite. Cesar is miserable, and believes the only way he can be happy is too make others feel more miserable than him. His times away from the lobby desk are spent unfurling elaborate plans of tortuous cruelty he perpetrates on the building's unsuspecting tenants.
Sleep Tight is more the thriller than a horror film, but it leaves a heavy layer of frightening guilt on the viewer's head. Watching Cesar enact his sickening behavior leaves no doubt he is one dastardly, evil human being, yet for a hefty amount the film, I still wanted to somehow believe I would be led to understand his actions differently. Maybe somehow his plans would be oddly warranted, even though there is no way that could be the case. Luis Tosar is so engaging as Cesar you want to follow him everywhere, even as you cringe at his sickening behavior. It's a daring move to write a main character as unapologetically twisted as Cesar without giving him even a modicum of sympathetic back-story, but they did it.
I'm a sucker for a great story – that's generally the most important thing for me in regards to a movie. However, there are some films that are just a brilliant experience to witness, or a daring experiment in character study. Sleep Tight is both of those things. It has a story and a clean enough ending, but it's more the thrill of being a witness to the dark world of Cesar that makes Sleep Tight so interesting. Movies often have to work extra hard to pull a reaction out of me during a viewing, but I'll be damned to say Sleep Tight didn't succeed in doing so. Think of any slasher film during which you were biting your nails as the killer sneaks across loose, creaky floorboards, looking for the frightened girl hiding in the closet; you want nothing more for it to end and for her to get away. Now imagine having that same worried feeling for the killer instead of the victim.
Audiences have rooted for the bad guy in the past, but usually it's someone redeeming themselves or going after someone even worse. Sleep Tight dares you to not react when the tables are turned, and it's kind of sick in that manner. That sickness, however, is the film's shining brilliance, as it forces the viewer to rethink how they react to almost everything in life.
—
Matthew Schuchman is the founder and film critic of Movie Reviews From Gene Shalit's Moustache and also the contributing film writer for IPaintMyMind.