SILENT HILL: REVELATION 3D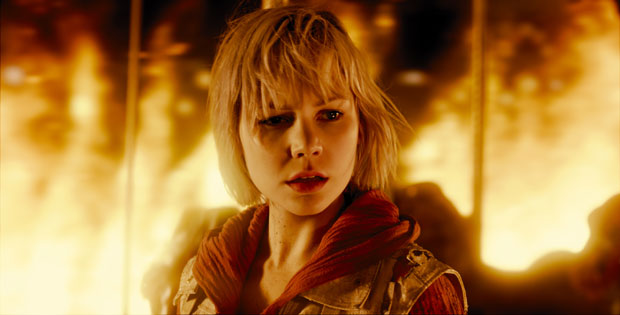 Open Road Films
94 min., dir. by Michael J. Bassett, with Adelaide Clemens, Kit Harington, and Sean Bean
If you've never played the first few Silent Hill games, you've missed out on some truly terrifying experiences. The first Silent Hill film was certainly flawed, but it had its merits; faithfully portraying specific aspects of the game and relying on as many practical effects as possible are some of its strong points. Silent Hill: Revelation 3D, however, turns the tables, handing its viewers atypical slab of crap.
Harry Mason (Sean Bean) and his daughter Heather (Adelaide Clemens) are settling into their new home as Heather's 18th birthday approaches. Traveling under a false name, Harry is in fact Christopher Da Silva from the first film. He's running from something, and that omnipresent force doesn't seem to be fooled by the Masons' constant travels. On her first day at yet another new school, Heather notices she is being followed by a man in a trench coat. Fearing for her life, she agrees to meet her father in the town mall, but he never shows. Heather knows where her father has been taken, and against all the warnings previously given to her by her father, Heather goes to the one place that has haunted her dreams for years: Silent Hill.
Silent Hill: Revelation 3D is a top to bottom disaster. The acting is appalling, the story is terse and flimsy, and the CGI creatures and atmospheres are silly and in no way scary. Fans of the third game might have high hopes with all of the overt references and frank recreations they see in the trailer, but 15 minutes into the film, all those allusions depart. New human characters slap on layers of bad story arcs that are piled on from a game that wasn't heralded for its taut story in the first place. New creatures were also created for this film that miss the point that all of the demonic entities in Silent Hill have specific attributes that either symbolize historic people in the real world or parts of a character's psyche.
Confusion over whether Adelaide Clemens, who plays Heather, is the lost sibling of Michelle Williams or Carey Mulligan is the only thing about Silent Hill: Revelation 3D that grabbed my attention. If there wasn't enough interest from the general public in another Silent Hill movie before this disaster was made, there certainly won't be a call for another one.
—
Matthew Schuchman is the founder and film critic of Movie Reviews From Gene Shalit's Moustache and also the contributing film writer for IPaintMyMind.