ADMIRAL SIR CLOUDESLEY SHOVELL – Don't Hear It…Fear It!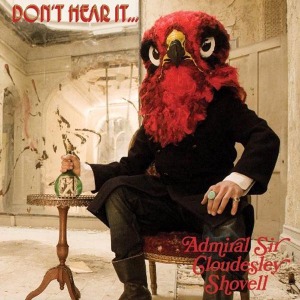 These guys play music like the last 40 years of musical evolution never happened. In fact, this is pre-metal heavy metal — you know, when bands like Blue Cheer and The Groundhogs (whose major domo Tony "TS" McPhee makes an appearance on this disc) were just playing loud aggressive music before there were any such genre labels. I mean, this type of sound happened before Black Sabbath codified it a bit and critics gave it a name. It's a more primal sound, one that you could call proto-metal, with even a little bit of proto-punk thrown in, just for the viciousness and attitude in the band's approach to the music. It's street tough.
The awesomely named Johnny Gorilla sets off fuzz bombs of sound on guitar while laying down riffs and face-melting solos. They are a just messy explosion of notes, played for maximum impact. The rhythm section of Louis Comfort-Wiggett (bass) and Bill Darlington (drum) keep the low end tough, mean, and tight.
Opening song "Mark Of The Beast" goes through several false starts before the war drums kick in and the guitar comes in hard, eventually breaking into a brisk gallop, throwing out some solos, and then ending with some jamming. "iDEATH" ups the punk quotient with a frantic pace, that gives way to a caveman stomp, and more guitar heroics from Gorilla, while "Red Admiral, Black Sunrise" is a great mid-paced burner. "The Last Run" shifts from boogieing to speeding down the highway like a biker a speed binge, and includes the use of a not so strategic cowbell. It keeps its intensity for the duration of its length.
So, don't listen to people who say you are being backward looking by liking this type of music. In fact, one of the best things about this is that it is so non-pretentious and down-to-earth. You can tell these dudes are playing music they love for anyone who will listen.
(Metal Blade Records, 5737 Kanan Rd #143, Agoura Hills, CA 91301)