TEENAGE BOTTLEROCKET – Freak Out!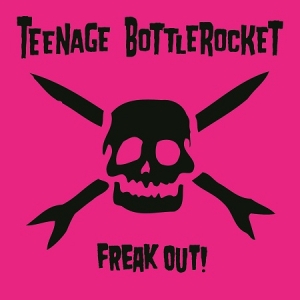 Love or hate Fat Wreck Chords, they have done an incredible job as the curator of bands with a similar aesthetic, even as this style has evolved over the past two decades. Prior to hearing Freak Out! I wasn't exceptionally familiar with Teenage Bottlerocket, but I tried to keep an open mind about the album and their career. After listening back through their previous works, I found myself not enamored, but certainly not disgusted. Teenage Bottlerocket managed to sound like a Fat Wreck band over half a decade before signing with the label, so it certainly makes sense why they wound up there.
Based on my personal tastes, I could only enjoy this music live… and heavily intoxicated. Cheap beer and a bouncy crowd can make almost anything in the punk spectrum into a fun evening. For those who like this sound, I have to imagine that this album will be quite well received. To sing its praises, the album is instantly catchy, playful, and comes ready with sing-along choruses on songs like "Cruising for Chicks." I legitimately liked the tracks "Mutilate Me" and "Headbanger," as the latter has the smartest and most entertaining lyrics of the album. However, I still found the record whiny and annoying overall, inducing me to roll my eyes a few times.
(Fat Wreck Chords, 2196 Palou Ave., San Francisco, CA 94124)