ALEX CROSS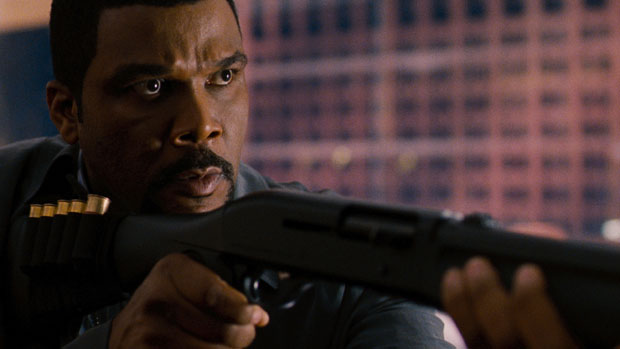 Summit Entertainment
102 min., dir. by Rob Cohen, with Tyler Perry, Matthew Fox, and Edward Burns
Author James Patterson has a loyal following interested in anything he's attached to, and these fans alone automatically bring a certain amount of box-office credence to the new film based on his work, Alex Cross. An origin story of the author's reoccurring hero who was tackled on film previously by Morgan Freeman, the true audience draw of Alex Cross is the unexpected move of casting Tyler Perry as the titular character. Perry's name alone will drive herds of adoring fans into the theater, but it doesn't change the fact that Alex Cross is a horrendous failure.
Alex Cross (Perry) is a crack detective, revered by his peers and respected by his superiors. When a brutal murder is committed in the ritziest of neighborhoods, Cross and his team are called in to solve the crime. As Cross and company start to unravel the clues of this odd murder scene, they find themselves entangled in the business of Detroit's richest, most powerful players. During a protection detail for one of these big fish, our heroes come face to face with the maniacal villain they are chasing, only to see him slip through their fingers. Taking their presence as a personal offense, the killer referred to only as Picasso (Matthew Fox), takes it on himself to harm Cross and his companions along with the targets he was hired to eliminate.
There's very little of Alex Cross that follows any form of logic. I've never read a Patterson book, and only have a fading memory of the previous films based on the Cross character, but the man presented here seems to be a completely different person from before. Alex Cross is supposed to be an ace detective and criminal profiler, I know that, but when was he ever a Sherlock Holmes/Monk-style detective? This incarnation of the character illustrates a man who can tell you your life story via one whiff of your flatulence. More importantly, the film tries to convince its viewers of his brilliance by having him point out the most obvious things. An early scene has his wife playing a game with Alex where she asks him if he notices anything new in the room they're in. Cross takes this opportunity to overindulge in his brilliant ability, pointing out he knows everything she did that day, based on her outfit. The grand finale of these observations contains his knowledge that she had a latte earlier, due to the small foam stain on her dress. Cue the camera as it pans down to the largest, Naked Gun-esque glob of frothy bubbles gathered around her shoulder. Frankly, that's insulting.
Scene to scene, the entire plot of Alex Cross falls apart due to a lack of tangible, well-explained back story. The evil Picasso is hired to kill his original targets, and while he's a crazed lunatic, he seems to adhere to that unspoken code of assassin ethics. His pursuit of Cross and his team is tersely explained and plainly unfounded. Plus, while he certainly does exact a bit of revenge on another team member, his fevered resentment is aimed mainly at Cross, and not the stylishly groomed head of Tommy Kane (Edward Burns), Cross's partner.
Due to the lack of anything else interesting to latch onto, Alex Cross is just a slowly sinking ship from its first second onward. Perry is stale and vapid as the supposedly deep, multi-layered cop of cops, and Matthew Fox plays the "wild-eyed maniac" card. Sure, Fox dropped some weight and ripped up the rest of his body muscle to really sell the part, but the fear his eyes were trying to jump out of his head at any moment destroys any realism the character can possess. It's safe to say that the only reason this film is being released is because the studio knows people are going to pay to see Tyler Perry.
—
Matthew Schuchman is the founder and film critic of Movie Reviews From Gene Shalit's Moustache and also the contributing film writer for IPaintMyMind.