OPIUM FIEND: A 21st CENTURY SLAVE TO A 19th CENTURY ADDICTION by Steven Martin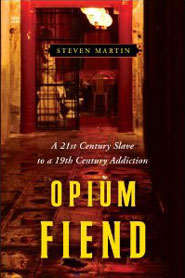 Villard, 416 pages, hardcover, $26.00
"It is difficult to live without opium after having known it because it is difficult, after knowing opium, to take earth seriously." – Jean Cocteau, Opium: Journal d'une désintoxication
Finding a memoir with enough adventure, humor, and drama to make you forget that it's a memoir is uncommon. Steven Martin's Opium Fiend is one of the most engaging personal narratives I've ever read, and is a tome that brings together an amusing combination of research, private experiences, and tangential action.
Martin was born in San Diego and started collecting things at a young age. This love for collectible artifacts eventually lead to a passion for adventure, and Martin ended up in Southeast Asia, where he worked as a freelance journalist. While researching the vanishing culture of opium smoking, he became enthralled by the beauty, artistry, and mysterious history behind rare 19th century opium-smoking paraphernalia. From that moment on, collecting opium accoutrements became a large part of his life.
Over time, Martin amassed one of the best collections in the world, wrote a book about the artifacts, and became a renowned authority on the subject. However, collecting pipes, lamps, and other opium-related accessories was not enough. Martin began smoking opium using some of the pieces in his collection. What began as recreational use in the company of a friend and a celebration of opium culture eventually turned into a crippling 30-pipe-a-day habit that kept Martin at home, forced him to miss deadlines, and hurt his finances to the point that he had to start selling pieces of his beloved collection.
While there is plenty of romanticism surrounding the act of opium smoking and the culture that sprung up around the drug in different parts of the world, the author is also brutally honest about the impact it had on his life. Some of the most chilling passages in the memoir come from Martin's unfruitful, physically devastating attempts at quitting opium "cold turkey." Like the best fiction out there, the real chronicle of Martin's addiction and efforts to stop smoking are an emotional roller coaster. Even when he finds an almost miraculous cure inside a Buddhist monastery in the Thai countryside, the shadow of the drug and its mystical allure are always present and threatening the author with a relapse.
Opium Fiend is very well researched and truly informative. Although Martin's knowledge is academic, his prose makes the vast amount of information in the book very digestible. A fine example of this is the brevity with which the author dispels myths and clarifies how opium arrived in China:
"Opium arrived in China around the seventh century via Arab traders, whose opium-laded camels traveled east over the fabled Silk Road. The Arabic connection is most evident in the Chinese word for opium, yapian, which is probably a corruption of the Arabic word for opium, afiyun. The Arabic word was, in turn, based on Afyon, the name of a province in what is now modern-day Turkey, where Arabs believed opium originated." (p. 64)
Serious collectors often become obsessed with whatever they collect to the point that they can think of nothing else and need to know everything there is about the objects they hold so dear. That passion is what makes Opium Fiend so compelling. In fact, Martin's prose has an effect on the reader somewhat akin to that of opium: you settle in, relax, and become entranced by the story.
Although the author's trips and thoughts occupy most of the memoir, there are other people in the narrative and plenty of stories that range from family drama to accidents, and from ignorance in academia to the real reason Hunter S. Thompson left Saigon in a hurry.
Ultimately, Opium Fiend works because it's both an absorbing, well-written account of a man enslaved to an old drug and a text chock full of interesting information about a drug that has been around since prehistoric times. Definitely a recommended read, even for those who don't enjoy memoirs.