WORLD WAR IX – Bender Royale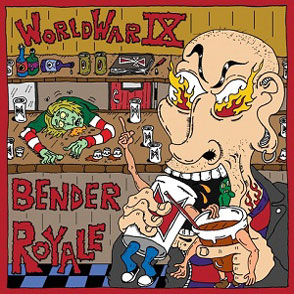 Straight outta Brooklyn comes this loose and tipsy punk gem. A mere five tunes, all under two minutes each, covering topics like internet experts ("Keyboard Commander") and being a shaven-headed yob who doesn't sport boots and braces but still enjoys them some Oi! tunes ("Oi Revult"). Just straight up, good time, drunken punk rock with an early Black Flag/Circle Jerks and Murphy's Law sound. And that ain't bad at all.
Hee hee — from the tune "Sore Winner": "Is that your trophy/ Or is that your wife/ Or is that the way you live your life?/Even if you win, you are still an asshole."
C'mon…everyone knows that guy.
(self-released, no address provided)