ARGO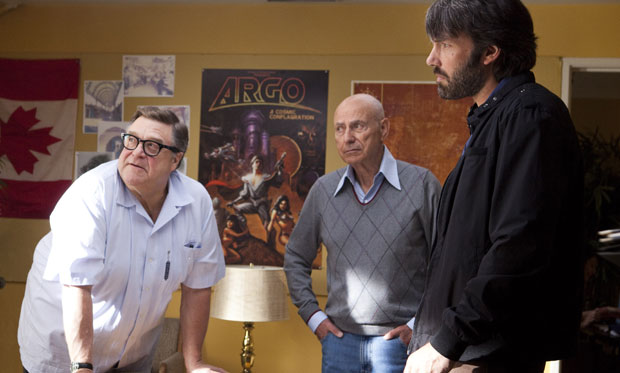 Warner Bros.
120 min., dir. by Ben Affleck, with Bryan Cranston, John Goodman, and Alan Arkin
It's hard to deny that Ben Affleck has become a well-rounded director. Tackling what may be his most ambitious film to date, Argo is a grand-scale thriller based on true events featuring wall-to-wall talent. Opening and ending with nail-biting, edge-of-your-seat scenarios, Argo raises itself to a triumphant level.
During the 1979/1980 Iranian hostage crisis, six US embassy workers escaped the raucous mob that stormed their office in Tehran. Turned away from every nation's embassy they sought refuge from, the six terrified outcasts finally found asylum in the home of the Canadian ambassador, Ken Taylor (Victor Garber). Everyone knows it's only a matter of time until the Iranian forces now occupying the American embassy discover there are six hostages missing. With teams of children reassembling the piles of shredded documents through out the embassy, eventually they will know identities and faces of the missing workers. With holes in every plan to retrieve the special six, CIA ex-filtration expert Tony Mendez (Affleck) is brought in to help plan their escape. The only viable option is so far-fetched that no one believes it would work. Still, Tony is sent to Iran posing as a Canadian movie producer searching for exotic locations for his new sci-fi film, Argo. Posing the six as his crew, Tony attempts to simply fly them all out on a commercial flight. It sounds like something only Hollywood could make up, but it's all true…
…to a point. Just like all other movies "based on a true story," artistic license was taken to ramp up the excitement at times, though the nuts and bolts of the whole tale, is terrifyingly real. A pitfall of these types of movies tends to be a lack in suspense since we all know the outcome. Argo, however, is genuinely tense and enthralling. The opening recreation of the Iranian rebels take over of the embassy is brutally realistic and mesmerizing, and the second half operation finally is a taut ball of nervous anxiousness and worry. The meandering in between Hollywood potshots and government red tape is loose and void of interesting hooks, but is rightfully overpowered by the real task at hand.
Aside from suspending your disbelief that Ben Affleck is the best stand in for a guy named Antonio Mendez, one might find it difficult to understand why pretending to make a movie is even an option in this case. The film does a great job of not only illustrating why all other avenues won't work, but why it was so important to take the film  project through a substantial amount of actual industry standards. If the film doesn't garner enough public presence, the Iranian officials would not just see through the entire ruse — they might bring harm to the other hostages in immediate retaliation, as well as detain and torture Mendez on his arrival. For such an elaborately dangerous plan, Affleck and writer Chris Terrio are careful to answer any questions one could question about other options, and the operation as a whole.
Argo succeeds on its cringe-inducing tension alone. There will be people who will be attached to Alan Arkin's flashy Hollywood producer persona or Bryan Cranston's faithful CIA figure, but the heart of Argo rests in its ability to have you actually question whether you really know what the outcome will be, even when it's written down in the history books.
—
Matthew Schuchman is the founder and film critic of Movie Reviews From Gene Shalit's Moustache and also the contributing film writer for IPaintMyMind.