CALL OF THE WILD – Leave Your Leather On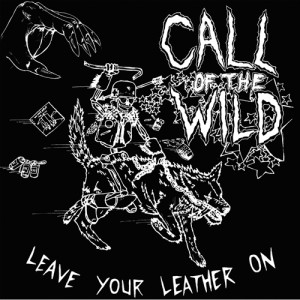 There must be something said for bands that play ferociously simple rock n' roll with very little frills and very little BS. This New York City-based power triumvirate attack their instruments with a nervy energy, which makes their music resemble a more macho Buzzcocks spliced together with AC/DC, full of blood, sweat, and bad attitude. This is the type of New York City punk n' roll that started with bands like the Dictators and Ramones, and every so often pops its head above ground, usually at a time when music has become too pompous and self-important, especially within the metal and hard rock scenes. Some might call this dumb, maybe, but it's a lot of fun and rocks like a motherfucker, and that's really all you need in some cases.
It's only rock n' roll and I like it.
Album opener "Autobahn" blasts off with the energy and attitude of early Hanoi Rocks, while "Breaking Shit" puts the pedal to the metal in its quest for destruction. On "All The Lessons," bassist Maxwell Peebles, taking over vocals from guitarist Johnny Coolati, comes off sounding like the lecherous bastard son of Bon Scott. "I'm Scarred" and "Choked Out" keep the needle in the red, and "NY Ripper" indulges the band's love of Lucio Fulci. "It's Your Night" closes out the record with a definitive statement on the band's hedonistic reasons to exist.
So, you might want to leave your leather on for this, because who knows — play this at a party and you might be confronted by someone who will want to take it off for you. This is serious fun, for people who take their fun seriously. And it will make a man or woman out of you.
(Kemado Records, 87 Guernsey St., Brooklyn, NY 11222)