LOOPER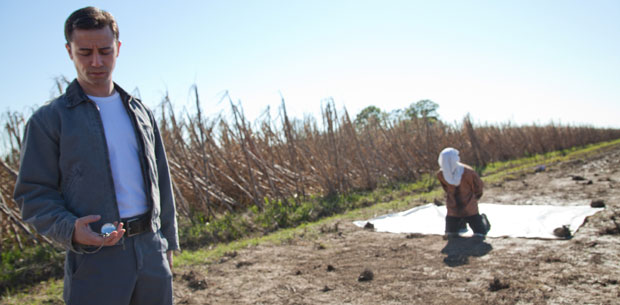 Film District
118 min., dir. by Rian Johnson, with Joseph Gordon-Levitt, Bruce Willis, and Emily Blunt
Even the best time-travel tales display some flawed holes in their logic. Looper may seem triumphant in its neatly tied ends, but the film's dark and unforgiving delivery is what pushes it into a class all its own. Writer/director Rian Johnson's previous films are well known (Brick and The Brothers Bloom), but this is his introduction to mainstream moviegoers, and he doesn't disappoint.
By the year 2072 — 30 years into the future from where the present day setting of Looper takes place (2042) — time travel has been invented. However, due to the belief that it has too many damaging consequences, the practice of time travel is outlawed — but a highly dangerous mob has their hands on a working machine. Figuring it's harder to be convicted of a crime if there's no evidence, the syndicate sends their murder victims into the past to face their deaths, leaving no trace of their bodies by 2072. Known as "Loopers," the men in the past who take care of all the dirty work are paid in silver bars, sent back with their targets. When Looper Joe (Joseph Gordon-Levitt) has an unfortunate accident with a target, many problems and questions begin to arise that Joe would like to see go away.
The previous plot rundown, and everything shown in the trailers or marketing materials, are all a clever ruse to hide a much deeper and startling movie. Where Bruce Willis's other time traveling masterpiece 12 Monkeys separated itself from La Jette (the short it was influenced by) in its use of time travel to explore how childhood trauma affects the way we develop as we grow, Looper expands on the notion. Looper explores the consequences a child's environment plays in their development in a completely different fashion. Looper works as a straightforward sci-fi flick if that's what you want, but it works hard to explore an idea that deserves your full attention.
Much like the devastatingly brilliant Children of Men, Looper presents a believable vision of a dreadfully morose future society where technology has advanced but hasn't completely changed the face of everything we see. It's a scary future, one where warning shots and pity don't exist. With the exception of the somewhat silly jet-powered motor cycles, every inch of Looper is a gem full of hypotheses. With no unnecessary exposition, the solar-powered systems the lower classes have rigged to their cars are just as impressive as the engrossing tale being unfurled. Each little nuance of seemingly inconsequential background clutter is another piece that builds a complete mosaic of setting and story.
I said Looper was dark, and when I say dark, I mean shockingly so. A handful of the events that take place are those many of Hollywood's best and brightest wouldn't want to be associated with. I have the utmost appreciation for a filmmaker who isn't afraid to shy away from such dangerously taboo ideas. It says a lot about Johnson and the brilliance of his script that so many popular names would attach themselves to a film others may deem "image damaging." Joseph Gordon-Levitt, Bruce Willis, Emily Blunt, Jeff Daniels, and Paul Dano — thank you all for being a part of this. Without the star power contained, Johnson's funding may have been completely different. A special kudos to Film District and Sony as well for having the brass balls to deliver Looper to a wide audience base, where they're bound to find a few disgruntled voices railing against the film's honest nature.
Every year or so, there's one film that never gets enough recognition from the awards circuits because somehow, sci-fi isn't good enough to validate a film as important or brilliant. It still boggles my mind how Children of Men was not a "Best Picture" winner. Looper is this year's Best Picture contender that deserves some proper recognition when awards season rolls around. Come Friday the 28th, Rian Johnson's startling wake up call of shock and thrill will win over audiences around the world.
—
Matthew Schuchman is the founder and film critic of Movie Reviews From Gene Shalit's Moustache and also the contributing film writer for IPaintMyMind.