SUNDIALS – When I Couldn't Breathe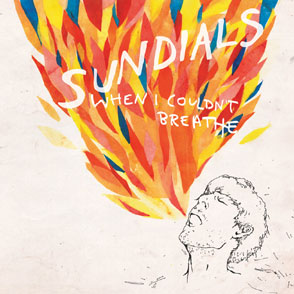 Meet Harris M. (guitars and vocals), Carl A. (bass and vocals), and Cory C. (drums). Together, these three gentleman make up the Richmond, Virginia-based band formed in 2008 called Sundials. In addition to the six singles and EPs under their collective belt, 2012′s When I Couldn't Breathe is the trio's sophomore long-playing effort, joining 2011′s Never Settle.
As the bass rumbles at the onset of the first track, "710," it becomes evident that this is an older band. The vocals wax nostalgic while feedback builds, growing more intense, until the listener is pushed over the edge and into the comforting safety of the chorus. Clearly, this is in no way an attempt to imitate a recognizable and memorable sound. Instead, from these songs drips an interminable desire to remake – and to improve upon – the music that these three guys grew up on. To form such a record, which shows maturity and growth since their last album, the band relies on solid songwriting, rather than any single musical element, as each of these tracks feels like a fully formed product of hard work.
And the hard work is greatly appreciated. Consider that this is an LP with a total play-time of 29:33. The average song length is 2:26 seconds; the longest clocking in at only 3:25. Like an act at an open mic night, Sundials make the most of their time before it abruptly ends.
The brevity of the album also gives the band just enough time to shape the tracks of When I Couldn't Breathe into a short story of sorts. While I hesitate to use the term "concept album," the album appears to follow a set of characters, their state of mind as they go through life, and the events that shape them. The songs complement each other just as much as they are able to stand as testaments of their own.
As a whole, the tale appears to tell the chronicle of a man struggling with depression, perhaps following a break up. The specifics are really not entirely crucial to the enjoyment of the album, and besides, this is not an album about dwelling on pain, but the struggle to overcome it. The emotion seems genuine, and the playing is artfully honed. Empathy is effortlessly felt for the main character (or real life person?) which is truly a testament to the arrangement of the album as a whole. All the while, each track creates a cliffhanger feeling: the next song must the listened to. The next set of occurrences must be learned.
All the songs on When I Couldn't Breathe may be winners, but everyone will have their favorite individual moments. "Seventy-Five," with an uncredited yet no less lovely guest vocalist, is best said to be a crowd-pleaser. Tracks such as "Mosby Blues," a slower song with a killer bass line, and "Untitled," a faster-paced pop-punk tune, have in common an accessible feel, and could almost pass off as radio-friendly — while cuts like "Unpredictable" are bound to get stuck in your head.  And if the numerous acoustic guitar cameos fail to be of sufficient amusement, focus on the lyrics, such as those from "Brain Waves": "Consult me on my dreams/I want the meaning that I sought, but never found."
Sundials sound like a band that thoroughly enjoys making music, writing and playing out of a need to fulfill a desire. The effort and passion is most certainly heard on their impressive Asian Man debut.
(Asian Man Records, PO Box 35585, Monte Sereno, CA 95030)