LADDER DEVILS – Nowhere Plans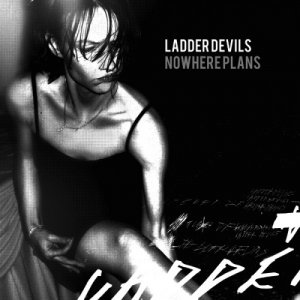 Ladder Devils play a loud, noisy, and — dare I say it — grungy take on indie rock that is full of piss and vitriol. They harken back to a time when indie rock could include crazy bands with a little bite, as well as the more buttoned-down collegiate rock.
Originally, side two of this LP was released digitally as the Forget English EP on Handshake Inc. For this release, the band decided to add four new songs and make a longer record out of it — plus, it's the first time the Forget English EP is being released in a physical format.
For those of you who missed out the first time, the five tracks that make up side two are an awesome blast of angry noise rock. For instance, there are the big beat drums and start-and-stop rhythms of "Get OK" and the feedback and fuzz of "Divorce Drugs." In addition, "Common Dogs" features a killer sludgy bass break, while "Pyramid" lurches into rough hewn, shoegaze territory. "Leavers" ends everything on a frantic pace.
The new songs that comprise side A have shorter running times on average and burn with a more urgency that would befit indie rock made by a bunch of hardcore ex-patriots. "Kids Get Meaner" is driven and impassioned, while "I Have A Name (Minders)" features blown out fuzz and a whole bunch of hollering. "Good Enough Methodology" sounds like Bleach-era Nirvana, and "Limited Too" features death trip guitars that build to a dissonant climax.
With this release, the band has proven that accolades fostered on them in the first place were well deserved and if anything, they seem to be on the right track to creating some exciting noisy rock. It will be real interesting to see where the band goes from here. I can't wait to hear what's next.
(Brutal Panda Records, no address provided)