THE ATOM AGE – The Hottest Thing That's Cool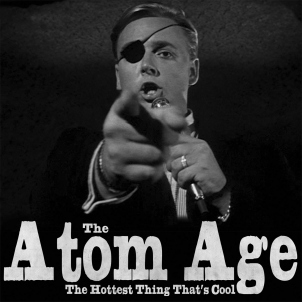 Where the hell was The Atom Age when I was in high school? I had so much difficulty back in 2002 trying to justify to my friends why I didn't want to listen to anything on Fat Wreck Chords. I guess I was just never into NOFX, Less Than Jake, MxPx, and other associated acts, but I couldn't provide a better alternative to show what I wanted to hear. While the Fat Wreck bands took pop-punk to its logical poppy climax, hardcore punk continued to get more aggressive and inaccessible. There was minimal middle ground in the punk world that I could use to support my point.
Enter The Atom Age. The Hottest Thing That's Cool could have been the half-hour of accessible but authentic punk-inflected music to sway my friends. Of course, 10 years later it doesn't do me much good to sit around and bitch about it. So, the time to sing their praises is right now. When I started the album, I thought this was going to be a ska record. The first track, "Dig The Future," is completely driven by the horns. It didn't have the syncopated rhythm or walking bassline characteristic of the genre, but it was so brass-driven that it almost didn't matter.
By the second track I realize that this is not a ska record, but is in fact punk rock accented with horns. Halfway in, I'm reevaluating my designation again. The incredibly catchy "I've Been Thinking" is a modern take on classic American rock music. On repeated listens, the album seems less and less punk rock, more a blend of late 20th century American music. If I had to put it in a box, it would still be punk rock, but there are enough other influences to render the label useless.
Some people have very productive and unselfish ideas about how to use a time machine; things like killing Hitler or stopping 9/11. I would like to go back and slip a copy of this CD in my high school locker, changing my own musical history.
(Asian Man Records, PO Box 35585, Monte Sereno, CA 95030)