SHADOWBOX – Haunted By Colors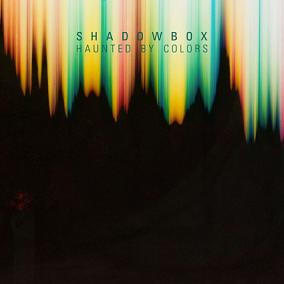 Darker themes have long permeated electronic music, but there seems to be a certain propensity toward a Cimmerian luxury that is seeping in at all levels now — from Clams Casino beats on mixtapes, to mainstream dance sound du jour brostep, which most would be hard pressed to classify as blissful and could be more aptly described as bludgeoning — and ShadowBox's Haunted By Colors is no exception. Tacking away from both the snarling bombast of dub/brostep and the high gloss onyx of Clams, ShadowBox instead treads on more ornate ground, pieces composed of spiderwebs and delicate, antique gold-chained lockets and William Morris wallpaper. The result is an EP that sounds, as its title would suggest, how a (mostly benign) haunting should.
The critical aspect to ones enjoyment of Haunted By Colors, aside from a propensity for the curiously macabre atmosphere it evokes, is how one reacts to ShadowBox, nee Bonnie Baxter's, vocals. She does not posses what would necessarily be considered an aesthetically pleasing voice in the classical sense. But what she does have, and which is far more important, is an interesting voice that fits well with the music, and goes from grating to lilting while touching upon many of the shades betwixt the two. She provides the all important human element, but in a manner of detached vaporousness that never breaks stride from the production.
That voice swings into some piercing highs on "AM," whose temple synths and heartbeat open the EP on an interestingly disconcerting note. As an introduction, it somewhat gradually lowers one into Haunted By Color's world, dissolving from a beginning that is similar to other pieces in the air into a sound more indicative of the album. The composition of "AM" is something akin to movements, and it is among the most textually complex cuts.
"D 60″ marks the arrival of the Victorian gothic sound, backing down from a quick opening into a slinking trip down dark mansion hallways while Baxter's vocals take on a haunting quality, aided by a ghostly chorus. "CO" finds the vocals sounding their most beautiful, floating above a low, hollow pulse and dripping notes of water. The most approachable of Haunted's tracks, ShadowBox brings back the softly unsettling feel — like being watched by the painted eyes in an art museum on an overcast day — to close out the piece.
Both "Loveless Child" and "Running Like Ghosts" seem to split dramatically from the rest of the EP, although echoes of some of "AM"s pieces are surely heard in the former. "Loveless Child" carries a sci-fi vibe, and a surprising aggression when juxtaposed against the understated eeriness of the other tracks. Jarring at first, it wins one over by its conclusion, and in the end can best be described as sounding like the revelation of a secret. "Running Like Ghosts" is a sad, short send off, bolstered by a beautiful fleshing out a little over halfway through its existence.
There is nothing starkly new or bold here; ShadowBox is working in much the same miasma as many of her contemporaries, lacing unease and spirit into inorganic vessels. It is her delicate manipulation of these themes, however, that makes Haunted By Colors an intriguing work.
(Pictures Music, no address provided)