KADAVAR – S/T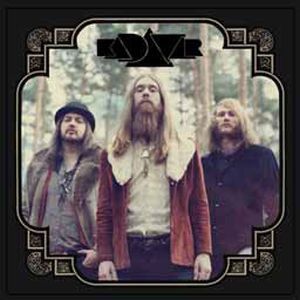 When it comes to metal, Germany is more known for exporting raging melodic power metal like Accept, terrifying Teutonic thrash in the form of Kreator, and, unfortunately, industrial metal in the form of Rammstein. The country is not known for retro/proto-metal bands. Very few German bands resemble the guys in Kadavar, who look like they were captured in the early '70s, put to sleep, frozen, and then woken up in this decade. They have that "born-too-late" air that Saint Vitus sang about all those years ago.
Granted, a lot of bands are riding the retro bandwagon right now, but there are very few that capture the essence of the music. Fortunately, Kadavar are in the elite group that includes Witchcraft and Graveyard — bands that manage to combine excellent songwriting with a suffocating sense of doom or dread.
But I must mention there is a small group of people who worry that too much rearview gazing will lead to a stagnant future for the genre. While I do I agree a little with this statement, there is nothing wrong with paying tribute to the sounds of the past in your own special way. And some people, myself included, like some of the ancient forms of metal, and don't mind hearing new bands that provide their own take on these classic sounds.
Opener "All Our Thoughts" starts out with a killer riff and makes some room for a cool psych-inflected solo, while "Black Sun" mixes up with subtle dynamic interplay between the bass, drums, and guitar, and closes with a solo that absolutely cuts loose. "Goddess Of Dawn" picks up the pace a little bit, and hits a little bit harder. "Creature Of The Demon" goes a little uptempo for doom, and features more crazy psych solos before settling into a classic doom tempo.
Album closer, "Purple Sage" is an eight-minute cosmic journey that begins with backmasked guitars and features a ringing psychedelic riff, as well as various layers of feedback. It blasts off to the cosmos before ending in hail of feedback before going quiet, finishing off the album in dramatic fashion.
Kadavar have crafted quite a debut that will easily snag fans of doom, retro-doom, and even occult rock, but it's so good that it should be able to draw all fans of heavy music. This is some dark, compelling music, and it will be interesting to see where the band goes from here.
(Tee Pee Records, 200 East 10th Street, Box 155, New York, NY 10003)