Interview: Charli XCX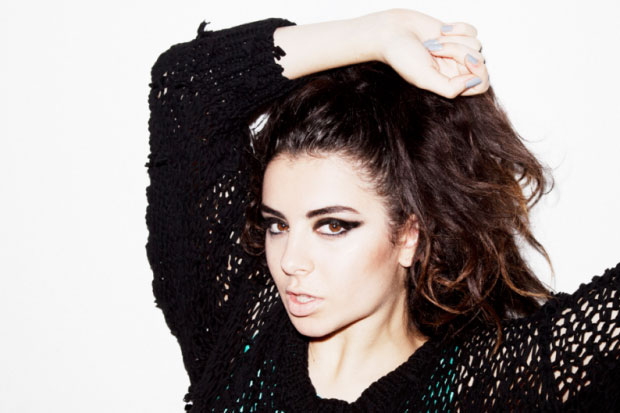 Xanax tastes terrible when chewed — like a rice cake dipped in cyanide — and it crumples quickly and benignly at first, enough to fool you into thinking, Maybe it isn't so bad, before exploding into a mouth-coating malaise, which I fight through and chase down with great gulps of water — which now taste bitter and coppery as well. I imagine the whole thing is what the statue of Bobby Hull outside the United Center, the one I am standing right next to, might taste like if I decided to give it a lick.
Desperate times call for distasteful measures, and, seeing as how I cannot wait for the normal administrative routs to take hold and I can feel the dire gloom of anxiety rising, I go ahead and chew and swallow and grimace, waiting for John the tour manager to come and find me and take me deep into the guts of the United Center to see Charli XCX. I am always nervous before interviews; prior to my first major one, I slugged two pulls of Southern Comfort before getting on the line with Southern rapper Ace Hood, whom I had called a train wreck in a review shortly beforehand. It is far more nerve-wracking to meet an artist whose music one likes.
John and I wind though hallways and past the numerous signs and veils separating Charli from the headliners until we arrive at a nondescript door, and there she is. She is without makeup, her hair piled high into an onyx tangle atop her head, a massive cross and platform shows juxtaposing her black spandex shorts and maroon crew neck. Unfolding her legs from across a blond gentleman's lap, and ignoring the lunch spread across from her that my early arrival has misplaced, she shakes my hand, asks me to take a seat in an accent best described as a congenial Veruca Salt, and waits patiently while I fumble with the recorder.
First things first, I guess. How are you doing today? What's going on?
We went out last night, so I feel a bit shaky. Also, maybe a little bit drunk. But I'm all good, I'm just a bit tired.
Yeah? Where did you go?
We had a little party at the House of Blues. The people who put on the show had a party for all of us. It was really nice, just hanging out. I'm feeling a bit like blaaah. (laughter)
Does it concern you at all that you have a show?
Kind of. I'm trying not to think about it. (laughter)
Oh, well, forget I asked then. So I guess that means you got to go downtown — did you get to go down to the Loop and everything down there last night?
Well, we're staying not that far away…I think kind of like the other side of town, so we got to drive through town today, and we all really like Chicago. It's my first impression of it, and maybe it's just the street we were on, but everything's so, like, kitsch, kitschy, in a very cool way. Everything's very original, which I really like. I think it's really cool here.
So did you guys have a show yesterday, or is today your first one?
I had a show yesterday as well, it was really cool. My first time in Chicago. The crowd was really cool, and it was my fourth show with Coldplay. It's just insane to be playing in such a massive place.
Is this the biggest stage you've had so far?
Oh, yeah. The UK one was a bit bigger, with Coldplay, but these are also huge. It's kind of bad, in a way, for me, because now, in my head, I have raised the bar. I'm like, "I'm not successful until I'm selling out these kinds of arenas," do you know what I mean? But it's really, really incredible; really a learning opportunity for me.
Any sort of nerves at all, stepping up to a larger place?
Yes, yes, especially the first time. I'd come back from a tour with Santigold and we were playing to rooms of  2,000 people maybe, if that. A thousand maybe, sometimes. A lot less. And then walking on stage and there are 25,000 people in front of you — I was like, "Whoa." It's a completely different fucking thing. For a minute I thought I was actually going to have stage fright. But yeah, it's definitely really nerve-wracking.
Does it ever go away? I mean, after you start the first song.
It does, in these kinds of venues, because they've got the screen. You can look at yourself while you're singing. So it's kind of this weird, like…
Like singing into a mirror, sort of?
Yeah! Which is weird because it's such a massive place, but there are those intimate moments where you can look at yourself, which you never really do at a show. So yeah, it's quite an odd one.
I read in some interviews that you're a pretty big hip-hop fan, so one thing I wanted to ask about was The Internet and Mike G remix. Did they just pick that up? How involved were you in that?
I think they [were] sent the track, and they liked it. Originally, I think it was just going to be The Internet doing a remix, but they put a feature on it, which was really cool. We actually really started talking when I decided to do the video, and I really wanted them to be involved.
I just think that their aesthetic is really cool, as well, and we were talking ideas. We wanted them to give us a gif, for the video, and they did, and it's really cool. They don't usually do that kind of shit. At first they were bit like, "No, that's not really our thing," and we were like, "It's going to be so cool, you've got to jump on board." And I'm really glad they did in the end. I'm actually beginning to prefer that version to what I wrote. (laughter)
Did you pick Mike G, or did they–
No, no, they did all that shit.
That was a good choice.
Yeah, I'm a big fan.
I [also] saw that you are a big Uffie fan. I thought I was the only person on earth who was a big Uffie fan.
No, no! I'm a massive Uffie fan.
Do you get to see her in the UK? Does she come around? I've never even seen an American tour date listed.
Well, she does…I've seen her once, twice now? She does a couple of festivals in the UK. When I first started to expand my music tastes a bit more, Ed Banger was the first label I came across where I really loved all of the artists, from Uffie, to Justice, and Feedz and the whole crew. [They] really inspired me to get into music in the first place, because I thought what they were doing was so fresh, they're kind of whole style.
I just really like Uffie because she's a fucking bad bitch. And also, she really can't rap, and I love that she says that and she's like, I'm just doing my thing. She's just really cool.
Have you been keeping up with all the other girl emcees that have been coming around? There's a whole bunch of them now, especially over here, sort of popping up out of nowhere.
To be honest, I'm regularly on research when it comes to music. When I find shit I like, I'll like it. But obviously, Azalea Banks is amazing. I actually also kind of like Iggy Azalea as well, even though they've kind of got the beef. I feel like her flow isn't as good, but when she gets it right, she gets it, I think. But when she does it bad, it's really shit.
I actually just did the Mermaid Ball party that Azalea Banks put on, and got to see this awesome girl, Meluca. She was insane. And I also met this girl, Brooke Candy, who's a really, really wicked rapper, out in LA, and Rye Rye played as well.
One last question on those lines. I know my friends and I have been obsessed with Dena, I guess her name is?
Oh, yeah! She's cool!
That "cash, diamond rings, swimming pools…" Have you tried to get in touch with her?
Yeah! She's actually going to maybe come stay at my place in the UK in August. She's coming over to do a tour. She's a really nice girl, but really funny as well. I really like that song ["Cash, Diamond Rings, Swimming Pools"]. I'm working on this collaboration mixture at the moment, and I want to definitely get her involved in that because I love what she does.
I've read interviews where you talk about seeing the songs as colors — that makes sense to me. I guess my question is, do you carry that over into your staging? Do you work that in to what you're wearing?
Definitely. I mean, at the moment, I don't have any money, really, so…
I know the feeling.
So my kind of vision is to make my whole stage like the colors of my music. I don't want any other colors even in the room, I just want for there to be, like, all people can see is like black and pink and red and glitter, and that's it. And that's all that I would wear, that's all that my band would wear, all that there is anywhere. Because I really want to make my live shows an experience, rather than just a boring show. So that's my plan, but I need to make more money first.
So does it make you feel better walking through the halls here, where everything already happens to be red and black anyway?
Yeah, it's nice.
I understand. (laughter)
I don't have to spend any money on it. But at the moment, I'm doing it already DIY. I really want it to look good, so I made a lot of installations and things like that. I really enjoy doing that, a  lot — and I'm just making these kind of fake, flower backdrops. My microphone has all these flowers going around it, and the keyboards have all these flowers going around them, kind of like blood-red flowers, and also covered in VHS tape as well, which like blows around. It's really cool.
Eventually I want my stage to be a tornado of blood flowers and VHS tape and pink magic, and I just want, at the end of the show, for it to all explode and blast at people. (laughter) So that's what I'm working towards, anyway.
Now, my understanding is that you didn't have formal music training, right?
Well, I had piano lessons when I was younger. I got to [about] grade seven. But I'm one of those people, I just can't read music. Even if you put the most basic thing in front of me, I wouldn't be able to do it. I kinda guess that it was a bit of a waste of time, in that sense.
But you did go to art school. Do you think that's why you're so visually oriented, like with the music, or is that just how it is?
I don't know. I think that's just the way I am…sometimes I'm more interested in what it looks like than what the music sounds like. Which is sometimes, you know, a bad thing, but I think in this day and age it's actually kind of a good thing. Like when I'm writing a song in the studio, I'll be thinking about the video. And I'll be thinking about what it would look like live. And if I can't imagine the video, I don't want it on my record. That's the way that I pick my track listings, what I put out on my mixtapes. If I can't envision the video, I don't want it.
One of the pieces I really like, one of my favorite songs just in general, was the Dalston Heights version of "Nuclear Seasons." Was the idea there to just make it sort of all about your voice, just to strip it down?
Yeah, yeah, yeah. And also, I do want to be able to do my version of an acoustic set, and I thought, What better way to do it than take it back to what I used to do when I was trying to write my stuff originally. And I'm not very technically like good at Logic or anything like that, so I used to just make these Yamaha keyboard beats with my fingers, and they'd always be out of time and sound really crap. So I just wanted to do that again, and have a really basic loop of beat and some really nice Wurlitzer piano. And yes, I wanted to strip it back and kind of show that — the songs that I write, there's a lot of signature sounds, and a lot of production on the vocals, and that kind of thing. Just to prove that I can write a really perfect pop song as well that you can play on the piano, you know?
Were all those other ones [Dalston Heights recordings] recorded around the same time also, or were those spread out?
We did those all in the same day, actually. I just went in and filmed a bunch of shit, really.
Okay. I know, myself in particular, when I'm reviewing something I like to lay it on kind of thick sometimes, you know what I mean? I don't know what I said about your piece, I'm sure it was something really nice. I always ask artists if critics bashing on them gets them down, and they never seem to say so. But when a critic loves something you do, is it sort of embarrassing? [Do you ever feel that] they don't get it?
When a critic doesn't like what you do, but has a reason why — a valid reason — I'm like, "Cool, I'll listen to that, it's good." And that's fine. And when they like it, obviously, it's really nice. It's annoying when they like it and they're comparing you to someone you don't think you are [similar to], but at the same time…I'm just thankful that people are listening to my shit to begin with. It's really nice when anyone says that they like your music.
One of the things I found interesting is if people ask you to categorize what you've been doing, you don't seem to shy away so much from that. Normally, there's a lot of like backlash, you know — people get mad: "I can't be categorized." But you don't seem to be so uptight about it.
My music is pop music. I want to be a pop artist. I don't want to be a "cool" artist, like, you know, selling no records and just being like, "Ehhh, I'm really cool." I want to be a fucking pop star. But I want to do it on my own terms.
Some people just want to read something, and get it, and be done. So I have to break it down pretty basically sometimes. I mean, I'd love to go and explain every fucking word of every song and every note and what each bit to me sounds like, and what I was influenced by, but sometimes it's just easier to be like "I make pop music, and it's a bit dark, and it's a bit gothic," and then that's it. And then the people who are lazy, who don't want to spend ages listening to me chatter, will be like "Okay, I'll listen to your shit."
Do you feel like anyone else around right now is working in your same general direction?
I don't feel like there's someone who's got my exact sound, or anything like that, but I feel like at the moment there are a lot of girls coming out who are making really real music — really real pop music. Real beautiful, not just throwaway shit.
The Grimes record was amazing; everything that she does is brilliant. Sky Ferreira's new stuff is also really, really cool. She's doing what she wants to do, writing great pop music, not just like, "I'm in the club, I'm with my girls." So yeah, I feel like there's this wave of new female artists who are hopefully going to change opinions on pop music. I guess we're kind of the same, but I don't feel like anyone sounds like me, which is good. (laughter)
At least on my end, from an "outside looking in" perspective, it seems like for a while there that pop music was a dirty word. But I feel like everyone is coming around now, that something can be catchy and musically relevant. Do you feel like that is what's happening?
Yeah, exactly, exactly. There was a time when it was all just really rubbish. Now I think it's taking a turn, and coming on better again. Why is that? I don't really know. I think people have been looking back on a lot of things that people thought were shit, and they're like, "Fuck, that's actually really cool." Like all that '90s cheese shit, do you know what I mean?
Yeah, the way I've always thought about it was like, I went to a school with a lot of music majors, [at] a very serious music school. And the one thing that struck me was how much of them loved Ke$ha music. I just went back and looked at it and was like, "Well, it's kind of stupid dance music, but…"
It's really well-crafted.
Really well-done stupid dance music.
Yeah. There's like, fucking, a formula in Dr. Luke's tracks: "This will be liked by the majority of people, and even people who don't like it will know all the words." I hate that shit, but it's how you write good pop records.
It's safe to assume, then, that you don't want to be formulaic, right? But, you still want to be poppy.How do you rectify the two? Or do they just happen to do it?
I don't know. For me, I feel like times are changing anyway. People are more receptive, and I would love to be hugely successful.
I'm not going to write a formulaic, throwaway song — I'm going to do it the way I want to do it. Sinead O'Connor had fucking hits, and they're beautiful, worldwide, Prince-written, amazing hits. And like fucking Kate Bush. I just feel like that time is coming back when you don't have to be blonde and in heels all the time; you can just walk out and do your thing, which I think is cool.
Although, you are in heels right now.
Platforms, platforms. Different.
True, they are different. (laughter) So, I know you're over here, and not at home, but there's a very large event happening in London right now. Does that matter to you at all?
You know what? It actually didn't, before it started. But I've been watching it, and I think it's actually really amazing. I thought the [Olympics] opening ceremony that Danny Boyle did was great. This is going to sound really cheesy, but the world is watching this event, and I think it's kind of weird. It's pretty interesting that everyone is so fixated on this. I'm kind of glad not to be in London; I like watching it on the TV.
Yeah, I think it's more fun over here then it might be over there.
Mmm-hmm. I hear London's really quiet, though, because everyone is going east, so central London is like…
So if you wanted to go party or something, now would be the time then, I guess.
Yeah!
That makes sense to me, I suppose. I just like it because it gives me something to watch during the day since I don't have a job right now. Have there been any goofy sports or anything that catch your attention?
Well, I think the gymnastics is incredible. The girls are so young, and they're doing all this crazy stuff with their bodies, and I think they are amazing. What they do is so beautiful; it's really cool watching that. I haven't really watched anything else. I watched a bit of synchronized swimming, and that was a bit freaky — like, really freaky shit — but the gymnastics is unbelievable. We're actually in awe of what they do.
I can't even do a back-flip standing still.
I can't do a fucking rolli-polli. What they do is incredible.
What kind of things — this is kind of a hokey question, I guess — what kind of things do you draw inspiration from outside of music?
Often, when I'm writing, I actually draw more inspiration from films and photography than from music. My favorite photographers are Pierre et Gilles, the French photographers, and I always look at their work when I'm writing and when I'm thinking about videos. I just love their whole lush, very beautiful, but very dark aesthetic. I think it's amazing.
That pretty much describes the music, basically.
Exactly. And I also go through phases of watching films on repeat. At the moment it's The Virgin Suicides, and Carrie, and Jawbreaker with Rose McGowan. I just like that '90s aesthetic. Cheese, but kind of raw and edgy as well. And aesthetically, that's my look.
Even now, with the crew neck and everything.
I always look at that stuff, when I'm thinking about my videos and I'm thinking about the music.
Would you mind telling me, if you remember, what you were thinking about for "Nuclear Seasons"?
I was thinking about purple wastelands…a real misty, cloudy sky. Kind of oceanic, but in the sky, if that makes sense. I was just thinking a lot about that kind of stuff. And I was listening to a lot of Cocteau Twins as well.
So, especially [on] days like today, trips like this — is it sort of unbelievable at this point? Or is it just a job? You've done this for a while, playing music — does it ever become sort of a job to you?
No, never. Every second is incredibly exciting. Always. Because I never know where I'm going to be, and playing a show never becomes a routine. It's like a new show [is] a new lease of life for every song. It's really cool. This job never gets old.
—
B. David Zarley is a freelance writer based in Chicago. You can find him on Twitter @BDavidZarley or at the Gingerman Tavern on any given night.