V/A – In Pleasant Company: A Mix Tape for Jason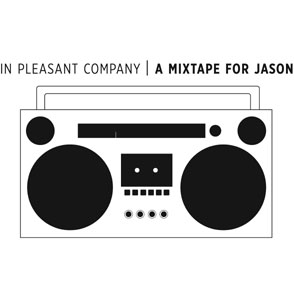 Unfortunately, just as this review was being completed, the news of Jason Noble's untimely death was announced. Still, this benefit compilation stands as an excellent tribute to his life. The familiar shape of a cassette graces the front of this comp, and by the quality of the songs here it's easy to tell how much heart has gone into it.
With 23 songs, it's a journey of a listen, but it is one well worth making. With everything from midnight soul-stirring indie rock to the sweat-inducing thrash of metal offered here, it's an album that spans a wide range of sounds.
My personal favorites include the 10-minute-plus jazz-electro epic from Hidden Tooth entitled "Hello Noble," the subtly brilliant and dryly humorous demo of Beauty Pill's "Prison Song," Bishonen Knife's "World of Mist," which closes the mix nicely with its chimes and beep imbued production.
Other highlights include Fuck, I'm A Ghost's "King of the President" and Black God's short and sweet "No Future, No Past," which makes its point perfectly in less than 90 seconds. True Womanhood's ambient rock track "Chatter" is a refreshing listen with the glistening keys evoking the hazy evenings in which this song really should be enjoyed on.
There are many more great artists, including We All Inherit the Moon, Olafur Arnalds, and much besides those already mentioned. With all proceeds going to Jason's family, this is well worth a listen.