THE CAMPAIGN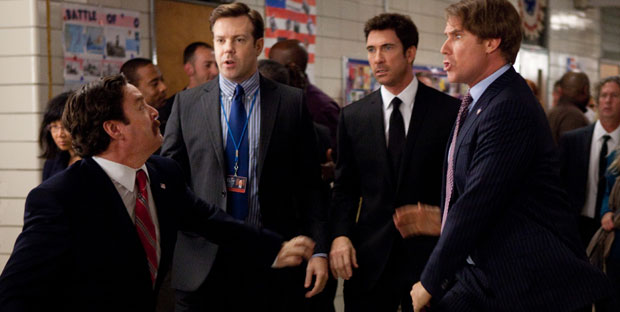 Warner Bros.
85 min., dir. by Jay Roach, with Will Ferrell, Zach Galifianakis, and Jason Sudeikis
Outrageous characters, larger-than-life scenarios, overtly complex analogies — these are a few of the hallmarks of every Will Ferrell comedy. The Campaign doesn't stray too far from the expected formula, and it's sure to please the Will Ferrell faithful. Does that automatically categorize it as a good movie? Not really, but it'll do just fine as a placeholder between the summer blockbusters and the winter awards rush.
Cam Brady (Ferrell) is a multi-term Congressman of a small district in North Carolina with dreams of one day becoming vice president. He is a shoe-in for another victory in the upcoming election, as his seat has never been seriously contested. When Cam makes the biggest in a series of unfortunate public gaffes, even his slumping approval rating can't stop him from winning his seat — that is, until newcomer Marty Huggins (Zach Galifianakis) puts his name up against Brady. Huggins was chosen as a puppet by the Motch brothers (Dan Akroyd and John Lithgow as a completely unveiled stab at the Koch brothers), who plan to have him lift restrictions allowing a US sweatshop to be completely legal. What ensues is the crazy battle between two weirdos fighting for the gold.
There's no doubt that The Campaign is meant to point a finger at politicians and the game of politics by saying, "This might seem over-the-top, but it's pretty much what really takes place." Amid Will Ferrell's canon of films, however, it just plays as another outlandish realization of a fictitious reality, dumbing down any real bite it could have as a damnation of our current political system. The jokes are what make or break the movie, but since the film so obviously takes its shots at the real world, it has to be judged on those merits as well. In this regard, The Campaign doesn't live up to its promises or its potential. The film missed its chance to take a more serious tone at times and work as a profound piece of satire, but it lies in a nest of absurd mockery instead.
Galifianakis obstinately plays the same role he created as his fake brother, Seth (in "Between Two Ferns"), with a different name. He brings his usual "absent-minded buffoon with a sensitive soul" routine into the picture. It works well and adds a new dynamic to what everyone is accustomed to in a Ferrell film. Dylan McDermott as Tim Wattley — the heartless, robotic, high-priced campaign manager assigned to help Marty Huggins — is another character type that doesn't appear too often in Ferrell's comedies.
Aside from these two aspects, everything else is as one would expect. If you like most of Ferrell's past work, you'll enjoy this. There are some good laughs, but if you want more, look elsewhere.
—
Matthew Schuchman is the founder and film critic of Movie Reviews From Gene Shalit's Moustache and also the contributing film writer for IPaintMyMind.