Circle Jerks Documentary "My Career as a Jerk" to Be Released on DVD September 25, 2012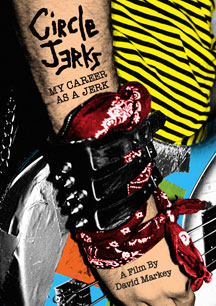 The Circle Jerks documentary, entitled My Career as a Jerk, will be released on DVD via MVD Entertainment on September 25, 2012. Filmmaker David Markey (1991: The Year Punk Broke, The Slog Movie) mixes in-depth interviews, rare live footage and historical perspective to illustrate the story of one of the most influential bands in the American underground.
"I was at many of these shows, and let me tell you, there wasn't a tighter band in Los Angeles at the time," said Markey. "Making this film reminded me just how truly great they were."
My Career as a Jerk features interviews with members Keith Morris, Greg Hetson, Lucky Leher, Earl Liberty, and Zander Schloss as well as J. Mascis (Dinosaur Jr.), Henry Rollins (Black Flag), Brian Baker (Minor Threat, Bad Religion), and more.