BURNING LOVE – Rotten Thing To Say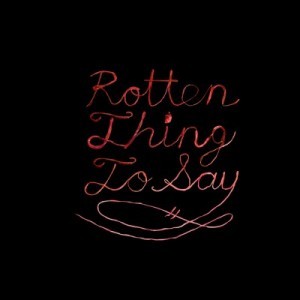 When Cursed called it quits in 2008, front man Chris Colohan didn't stay idle for long, putting together a new band whose intentions were to deliver the same anger-driven music but with a more rock attitude. While his old band Cursed played more squarely in the hardcore and sludge fields, Burning Love merges the pissed-off aesthetic of hardcore with desert punk riffs (think QOTSA at their hardest), bluesy leads, and accents to form a high-energy hybrid. Though more catchy, Burning Love is still pretty dark and bruising — such as when Poison Idea took their sound in a rock n' roll direction.
In fact, the band has majorly upped the ante since their debut Songs For Burning Lovers a few years ago. The songs are catchier, the energy is higher, and Colohan sounds energized and furious — the production by Kurt Ballou gives the album a nice heft, too.
In true punk fashion, Colohan takes aim with a jaundiced eye at various subjects such as creationism, organized religion, the media, and urban blight. But far from being contrite protests that you've heard a million times, he manages to give fresh perspectives on these subjects. It's his state of the world address from the view of the common man. This is a perspective that punk says it's all about but rarely achieves. Colohan achieves it here, especially when he sings on first proper song "No Love," "I can live without the praise of trust fund punks," with utter conviction, while the rest of the band makes a cutting punk 'n roll racket behind him.
"Superstitious Friend" takes on the afterlife with high energy and some bluesy leads, while "Hateful Comforts" is four-minute mid-paced burner about media manipulation. "Pig City I" and "Pig City II" provide a mini-suite on corruption and how it's rotted out our cities. But there is hope, because on closer "Broken Glass" Colohan sings, "I get homesick for this place and I'll take the good with the broken glass," implying that there is always some good in the world, it's not always dark. It could also mean he's talking about his relationship to his city and maybe even punk rock. He's a lifer.
Recently it seems like hardcore has been giving a bit of resurgence in terms of media exposure, with magazines like Spin writing articles about Ceremony, Trash Talk and Slices. OFF! seems to be everywhere you look. While all the aforementioned bands deserve the exposure they are getting, it would be a shame to overlook Burning Love in this regard. They have released one of the best hardcore records of the year, and it should not get lost in the shuffle.
(Southern Lord Recordings, PO Box 291967, Los Angeles, CA 90029)